Crawford's Verma: 100-year event metric is no longer relevant
The increased frequency of high-severity events has rendered the 100-year event metric almost redundant, said Crawford CEO Rohit Verma, as he reflected on the impact of recent natural catastrophes.
Speaking with The Insurer TV on the latest episode of Close Quarter, Verma observed that every year in recent history has in some way marked a record from previous years in terms of severe weather events.
"We are definitely seeing a tremendous impact in terms of severe weather," he said. "One hundred-year events are no longer 100-year events. They are happening a bit too frequently.
"On the one hand in some regions – Australia and California – we are seeing extreme forest fires, and then we see extreme flooding. US windstorm has become more frequent and severe in the last decade and we think severity more generally [for nat cat] is only increasing," he said.
According to a recent report from Gallagher Re, insured natural catastrophe losses surpassed $140bn in 2022, with Hurricane Ian representing the largest loss at $55bn.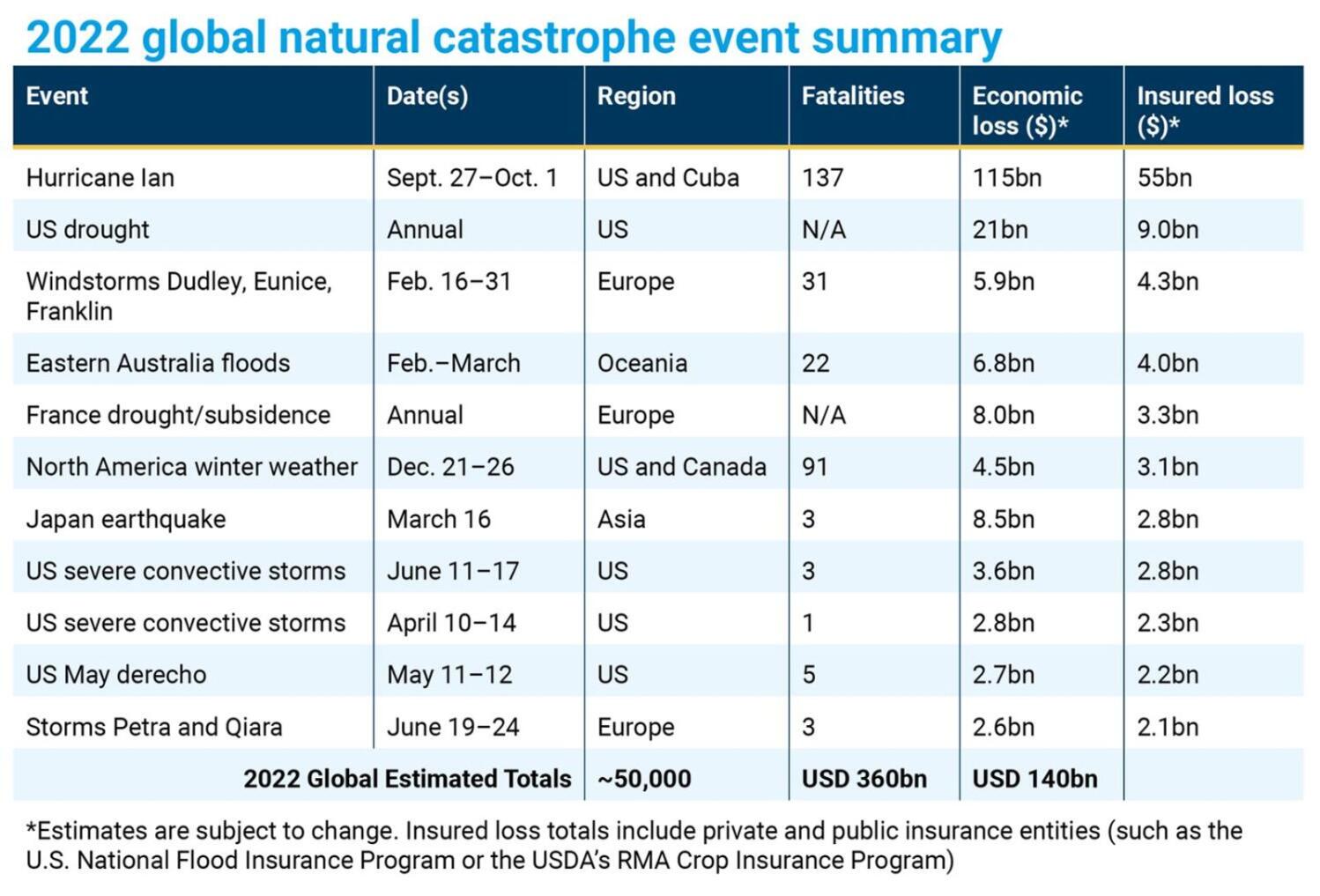 "What that has meant for us, is that it has really changed how we view handling claims," he continued. "We are using a lot more technology now because we understand that the ability for us to scale with just people is much more difficult.
"In general, there has been a shortage of staff across the world and a shortage of trained resources. So, we've tried to figure out ways in which we're using technology to be more efficient," he said.
While technology is playing an increasingly important role when it comes to loss adjusting, Verma said Crawford is committed to its people.
"We've made sure that we are doubling down on training," he said. "Last year, in the US we trained close to 2,500 new adjusters to be ready for a catastrophe. We know that catastrophes are increasing and that the share of both insured and uninsured losses are going up, and it is important that we can deploy our people, to make sure that we deliver on our purpose, which is to restore lives, businesses and communities as well as we can," he said.
Claims inflation here to stay
In addition to an increase in nat cat risk, inflation also features highly on Verma's risk radar, particularly in relation to the property and motor markets, and he believes the challenges will persist for some time.
Looking first at motor, Verma explained that the global shortage of vehicles, parts, labour and an increase in the average age of vehicles on the road requiring more upkeep means this challenge will stick around.
"As a result of that, we believe that the inflation in motor claims is going to stay for some time, until the supply chain stabilises, which [it] is starting to, but it's a lag effect between the supply chain stabilising and the impact of that on inflation."
On the property side, Verma discussed the record levels of house sales in the US, meaning increasing levels of labour being required from sellers and buyers alike.
"Again, there's a lag between that happening and the claims actually seeing stabilisation in the claims cost. So, we believe that we're on the back end of that inflation, but probably for another six months that inflation is going to stay."
Sticking with property, Verma said the 1 January reinsurance renewal has also been impactful.
"A lot of those reinsurance contracts have been very difficult contracts, because the property market remains hard and we believe that that is going to flow through, in terms of pricing for property this year. And as that happens, more and more customers will probably take on higher deductibles and probably take on more net. And with that happening, they will need more claims handling. So we're getting prepared for that as well," he added.
'Opportunity in every challenge'
Verma took over as CEO of Crawford in March 2020 – during perhaps one of the most tumultuous points in recent history when Covid-19 became recognised as a global pandemic.
During the interview, Verma quoted Winston Churchill, describing his outlook for the business as one of opportunity: "'An optimist sees opportunity in every challenge, and a pessimist sees a challenge in every opportunity.'
"And I definitely saw an opportunity in the challenge that we had with Covid in front of us to make the business sustainable for the future and to continue to serve our clients, while ensuring the safety and well-being of our staff," he said.
"We ended the financial year of 2020 as a much stronger company than when we started, in terms of financial strength, in terms of our employee engagement and our connections with our clients."
Verma's been focused on transformation for the past three years, the opportunity for which came out of the pandemic which "was a catalyst to move certain things faster in our industry".
Using the transition to remote working in March 2020 as an example, he remarked on how quickly this transition was made, when pre-pandemic most companies would have given a timeline of at least one year to make the transition.
Instead, "in a matter of two to three weeks, 90 to 95 percent of the workforce was able to work remotely. It's often said that need is the mother of invention".
Verma's vision for Crawford going forward is anchored by three comprehensive pillars: "Quality, that sets the industry benchmark; expertise, which is deep and eminent; and digital, that simplifies."
"So, we're taking digital into every aspect of our business, and we're making sure that it's not just digital because it's cool, but because it's driving an aspect of our quality or it's driving an aspect of our expertise," he concluded.