(Re)insurers can help educate on climate and change behaviours
(Re)insurers have the opportunity to be a positive force in changing the current path towards catastrophic climate change impacts, according to Swiss Re's head of Western and Southern Europe Nikhil da Victoria Lobo.
In the latest interview in The Insurer TV's Close Quarter series, da Victoria Lobo highlights the important role the industry can play in helping reduce the impacts of climate change.
"When I look at the power of the insurance and reinsurance mechanism – our ability to put a price tag on risk and give people incentives to change behaviour – I believe we have an ability to be a positive engine in this story," he said.
Da Victoria Lobo said the (re)insurers could play an important role in "awakening people's understanding on climate risk and incentivising people to change their behaviours".
"In doing so I believe we can help put our economy back on track and reduce the risk climate will pose to income equality, GDP growth and political instability," he said.
"We as an industry have an opportunity to change the current negative track into something much more beneficial."
Systemic risk
A recent report by Swiss Re – The Economics of Climate Change – created an index of 48 countries that represent 98 percent of the world's GDP.
"It concludes the world is not at the resilient place it needs to be with regards to climate," da Victoria Lobo said.
"In Europe as a whole, by 2048 we expect climate change to reduce GDP by up to 10.5 percent."
The report shows the economic risk is more pronounced in other parts of the world. China, for example, is at risk of losing 24 percent of its GDP by mid-century while on a global basis GDP could fall by 18 percent.
Within the report Swiss Re says the economic impacts of climate change can be lessened if decisive action is taken to meet the targets set out in the Paris Agreement, with the private sector having a crucial role to play in accelerating the transition to net zero.
"This is a systemic risk and we need to put our heads together collectively and take action," da Victoria Lobo said.
"When we talk about ESG and the movement occurring on a regulatory and fiduciary basis, the insurance and reinsurance sector should be speaking on both sides of the balance sheet."
Secondary perils
From an underwriting perspective, one of the key challenges for the industry is managing the increasing financial impact of what have typically been termed "secondary perils" but which now often account for a large proportion of annual catastrophe losses.
"What we have seen in our data over the past 20 to 30 years is secondary perils have become very prominent both in the public imagination and in the losses they generate for the industry," he said.
Global insured losses in 2020 were $89bn, making it the fifth-costliest year on Sigma records since 1970, da Victoria Lobo noted.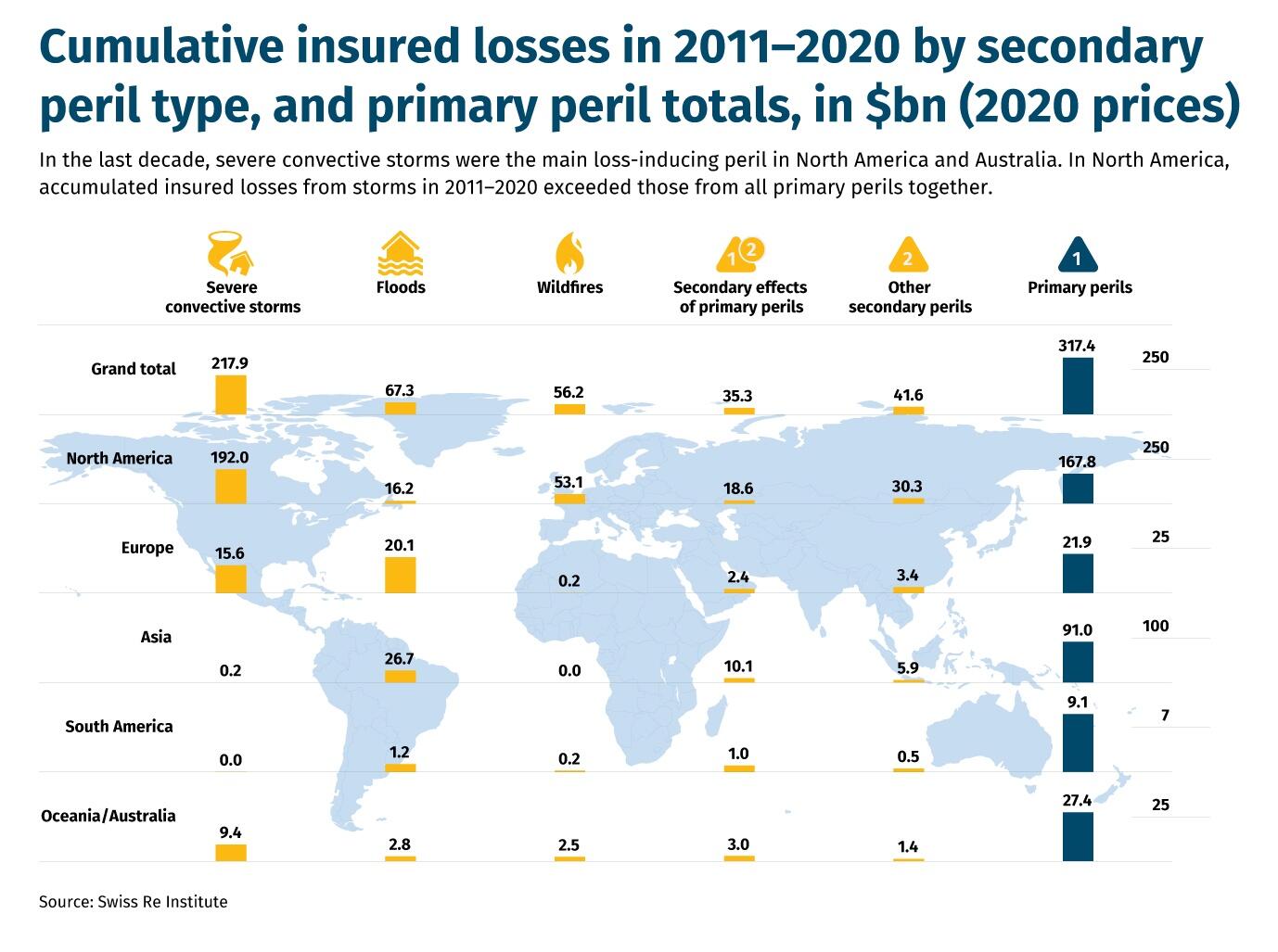 "A large portion of those losses came from secondary perils. We have to keep an eye on how climate is driving these perils.
"We also should understand these are not just issues for the P&C sector – there are also long-term impacts for life and health from climate change."
While the impact of climate change in the group's economic results "naturally focuses my commercial instincts", da Victoria Lobo said there are broader objectives in trying to drive change.
"I grew up in emerging markets and when I thought about what I wanted for my career, I wanted to be in a place where I could drive transformative change and not just talk about transformative change," he said.
Click the link below to watch the full interview with Nikhil da Victoria Lobo, in which we discuss climate change, natural catastrophes and secondary perils, the issue of subsidence in France, and why the industry needs to react now to support climate resilience…
Close Quarter - Nikhil da Victoria Lobo, Swiss Re