Exclusionary language "front of mind" as 1.1 renewals enter final phase: The Insurer TV
Changes in reinsurance terms and conditions, notably the exclusion of pandemic cover in new and renewing contracts, will be a key feature of discussions as 1 January negotiations come to a close in the coming days.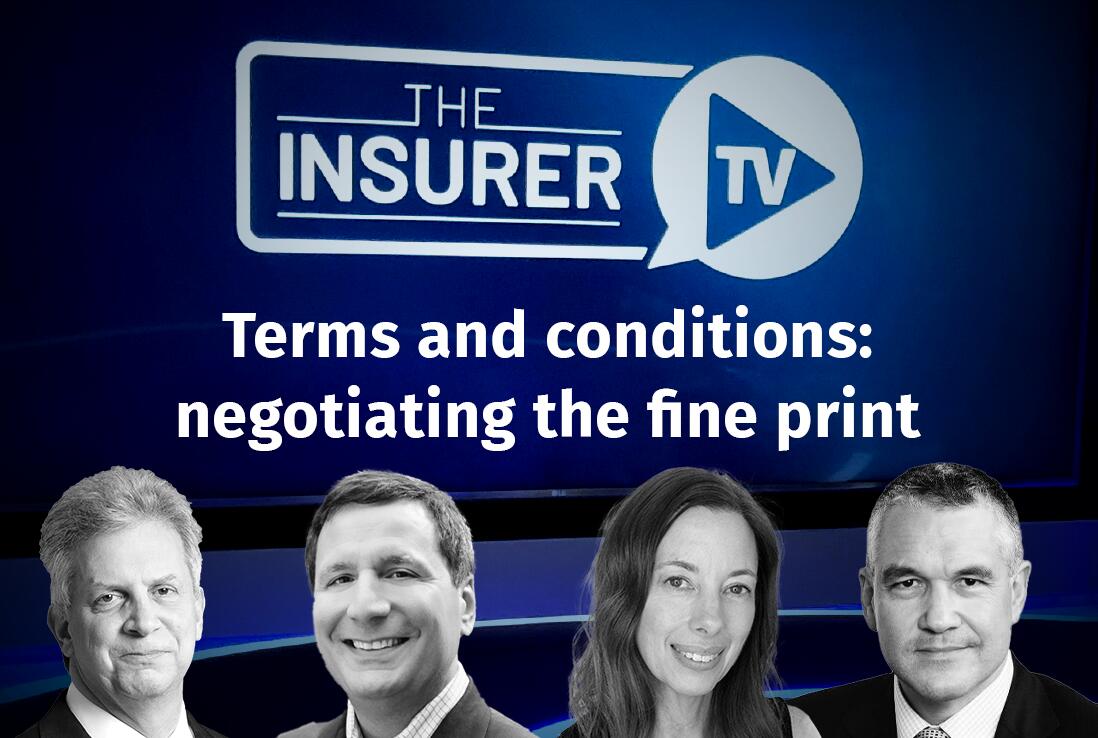 "Getting the right exclusionary language for infectious diseases is front of mind," said Mike Mitchell, head of property and specialty underwriting for reinsurance at Swiss Re.
Speaking to The Insurer during the first-ever The Insurer TV broadcast looking at renewal dynamics, Mitchell added that loss aggregation and how loss occurrence definitions are interpreted and their response to infectious disease and business interruption situations is "very important".
One of the most contentious areas in these discussions has been around property, where communicable disease has now been excluded altogether. 
However, outside property, there is a much more nuanced approach and a lot of variability.
Mitchell said: "We're clearly seeing that many wordings in the market don't properly contemplate the events we've seen this year.
"Far from being in an environment where there's a quick and universal acceptance of standard exclusionary language, we're seeing a lot of energy and time being committed to seeking clarification upon clarification which then becomes write backs, and running the risk of introducing ambiguity into some of the contract language and unwinding some of the intent of the original exclusions."

He added: "It's a minefield to try and get through and try to ensure that while finding a landing spot, we're not introducing ambiguity."
According to our industry commentators, it would appear that cedants do understand the need for exclusions and the removal of areas of ambiguity, but what's proving to be complex is agreeing on specific wordings in contracts.
It is important these exclusions don't impact other types of risk such as hurricane or earthquake, for example, where in a potential loss settlement there might be some level of impact from a shutdown order resulting from a communicable disease.
Guy Carpenter's global head of distribution Lara Mowery said the reinsurance broker had been puting "an extraordinary amount of time into this issue".
She said: "Mid-year renewal wording analysis found that non-concurrencies in communicable disease language are pervasive. Although the intent of wordings is widely agreed on by all parties, the process has been about finding more consistency in the language."
But the basic understanding that everybody has, said Mowery, is that Covid-19 isn't a loss that was specifically contemplated in relation to much of the contract language.

"The response from reinsurers to what has been a very challenging loss is really to say that at this point of time, knowing what we know, we have to exclude communicable disease coverage from property contracts," she said.
"Reinsurers are being driven by investors and by their boards who are saying that until we get some certainty around this, we want to exclude communicable diseases – this isn't being left to individual underwriters to make this decision," concluded Mowery.
Watch full programme here or below: 
Prospective - The 1.1. squeeze
Throughout the programme, we will be covering:
Key drivers influencing 1 January 2021 renewals
Impact of Covid-19
Terms and conditions: negotiating the fine print 
How casualty is at the heart of the battleground in the lead up to 1.1
Start-up capital and the new class of 2020
You will hear from our expert guests:
Ken Brandt, President of Underwriting Operations, TransReJean-Paul Conoscente, CEO, Scor Global P&CDinos Iordanou, Non-executive Chairman, VantageMike Mitchell, Head P&S Underwriting Reinsurance, Swiss ReLara Mowery, Global Head of Distribution, Guy CarpenterTony Rettino, Founding Partner, Elementum AdvisorsDarius Satkauskas, Vice President, Equity Research - Insurance, KBWDavid Bull, North American Editor, The Insurer
Sign up to The Insurer TV to receive all of our upcoming video content throughout 2021 directly to your inbox as soon as it is published.