The Insurer TV: Hybrid fronting carriers meet need for stable capacity and alignment of interest
The evolution of the hybrid fronting carrier model adopted by a wave of start-ups over the last few years met a strong need from MGAs for stable capacity and from reinsurers for greater alignment of interest, according to participants in the latest instalment of The Insurer TV's monthly Prospective series.
Research by The Insurer reveals that there are now at least 20 fronting carriers able to provide paper in the US that will entertain some degree of participation and risk sharing on programs.
The majority of those carriers have emerged just in the last couple of years in a surge of start-up activity as investors have seen the vehicles as a way of accessing the fast-growing program marketplace.
According to Michael Jameson, president of Guy Carpenter's GC Access unit, the new entrants came in to solve a problem.
"You combine a hardening reinsurance market with the growth of MGAs and a need for alignment of interest and you see the emergence of the program carrier.
"We've spoken more about alignment of interest in the last two years than in the previous 10 combined. The program hybrid carrier solves a lot of those issues," he said.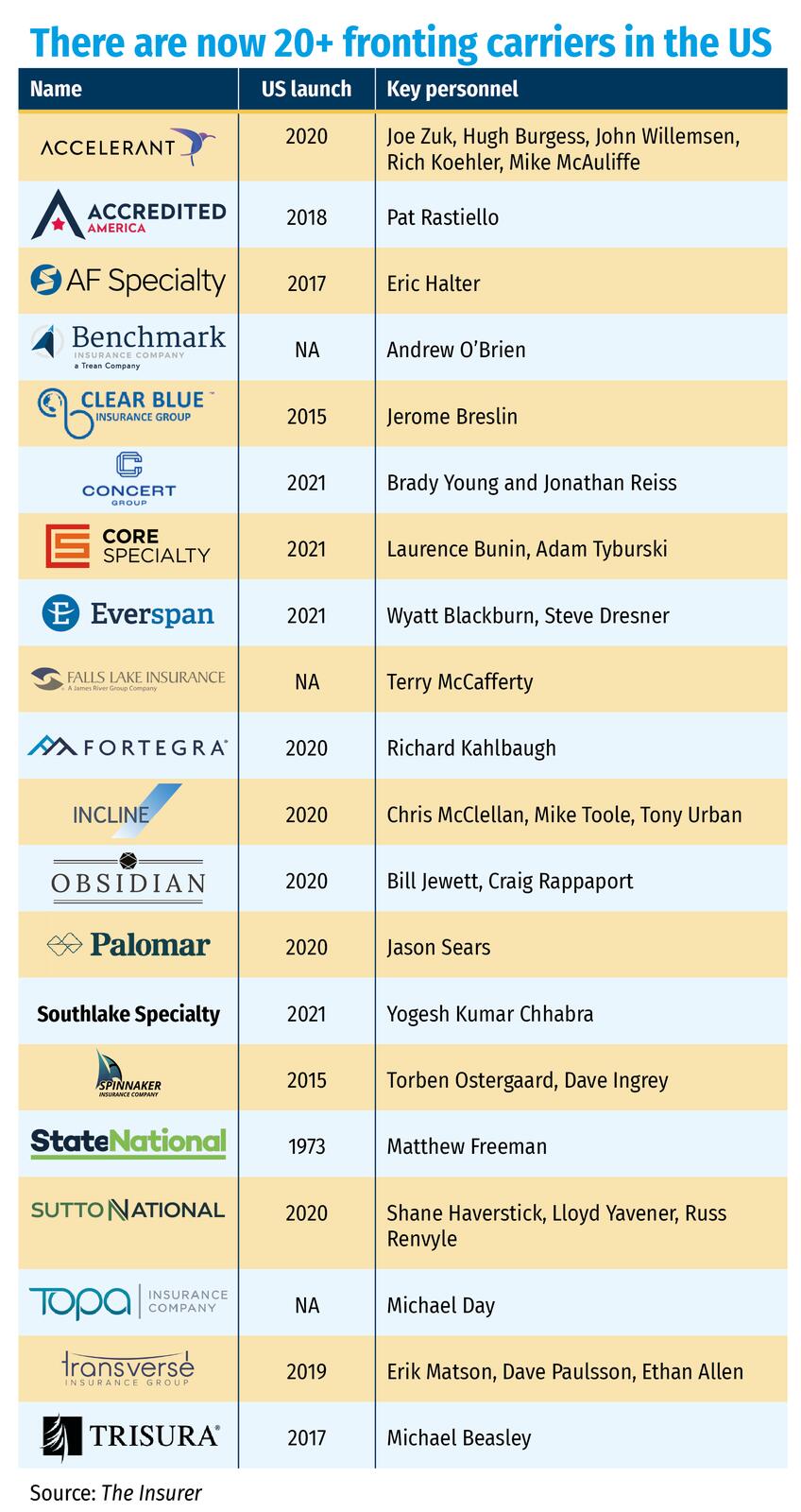 Where alignment of interest had begun with sliding scale ceding commissions that saw MGAs take some risk, it then evolved to a program carrier taking a 5-10 percent participation on a program, and now sees some players take 10, 20 or even 30 percent participation to get reinsurers behind a program.

Bob Petrilli, president of Amwins' underwriting division, suggested there had previously been a lack of fronting options to give the market the ability to be nimble and for reinsurers to be able to get closer to the original risk.
Meanwhile, Accredited Specialty Insurance Company president and CEO Pat Rastiello said that the model provides greater stability of capacity for MGAs.
"When there is any change of thought from a reinsurer or capacity provider, through the hybrid model we can replace that easily. In the traditional model it's very hard to do that.
"With the hybrid model if it's a couple of reinsurers deciding they don't like a line or have too much exposure in a territory, there are other reinsurers that can fill that gap at renewal time and not just close the program down," he commented.
Rastiello added that MGAs are looking for "that closer touch to reinsurers" while at the same time reinsurers "want that kind of touch to the original premium and try and cut the expenses out".

"They're in direct contact with the guys putting together what we call expert underwriting and focused distribution. We can help them differentiate [to find] the best MGAs, those that are outstanding in the field."
The State National catalyst
The catalyst for the emergence of the wave of fronting carriers was arguably the two transactions that saw previously established market leader State National go public in 2014 before being bought by Markel three years later.

"State National went public and everyone got to see how much money this company made by taking almost zero underwriting risk, some credit risk and some business risk. That attracted more interest to the program space, especially the fronting space.
"Then Markel comes in and buys State National for almost 3x book value. So people saw you could go out of the gate public with this model, make 2x to 2.5x, then sell again and go private for 3x book – that attracted a lot of attention," explained Trisura Specialty Insurance Company president and CEO Michael Beasley.
Click below to watch the latest episode of Prospective, which this month focuses on the US program insurance sector – a subsegment of the US property casualty insurance market that has undergone a transformation over the last decade.
Prospective: US program sector | FULL