Where next for ILS?
Expanding the frontier of ILS beyond its traditional focus on the natural catastrophe space is at the forefront of the sector's agenda as realisation builds of the need for innovative solutions to address the evolving risk landscape.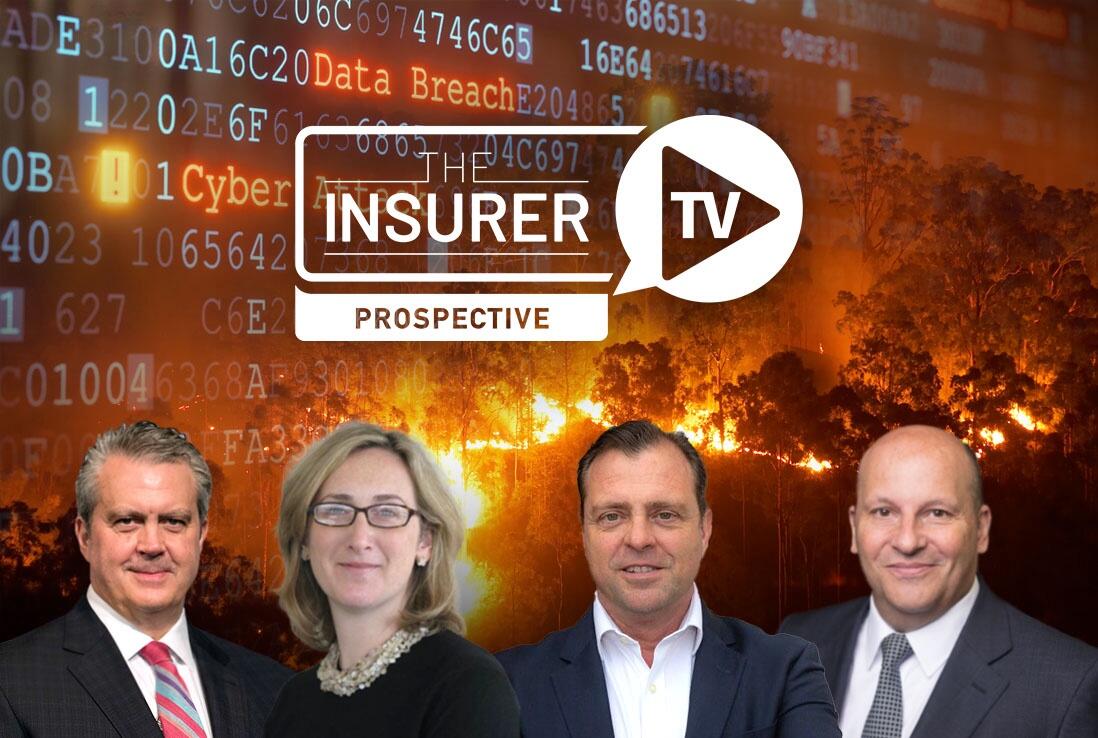 In the latest episode of Prospective, the regular analysis programme from The Insurer TV, senior executives from the ILS world examine what they see as the near- and longer-term opportunities for the sector.
Paul Schultz, CEO at Aon Securities, believes the ILS market has reached an inflection point which requires it to further research the type of products where it may be able to provide solutions.
"Cyber is clearly one of those. We are working on a few things and I'm sure others are as well, and we are still very bullish on cyber coming to this market. We know demand for protection around cyber will continue to grow," he said.
Credit Suisse's head of insurance linked strategies Niklaus Hilti believes there remains a lot of room for improvement in the insurance industry's response to the challenge presented by cyber risks.
"This is something we hear a lot from chief risk officers from major technology companies, who are not convinced that current structures of policies really solve their problems and offer attractive insurance products," he said.
ESG opportunities
ILS managers are also eyeing opportunities presented by the rising environmental, social and governance (ESG) agenda and the increasing number of ESG investors.
However, the latest Prospective episode saw calls for a better-developed set of metrics to allow the ILS asset class to convey to investors its value from an ESG perspective.
Richard Lowther, managing partner at Integral ILS, said there was a need for a framework to measure progress against ESG objectives.
"An independent framework to score ESG would be extremely helpful, as right now it is largely a self-certification process," he said.
Lowther said it was "extremely important" some form of structure was put in place that enables better assessment of ESG performance within the asset class.
"We think that will be a win for investors and the ILS asset class as a whole," he said.
Aon's Schultz said ESG investments were a "great opportunity" to attract capital to the asset class but believes it remains in its infancy around ESG disclosures.
"The question is how we position this for investors who have an ESG mandate," he said. "We are spending a lot of time thinking about the best framework to make all of this happen."
Several ILS fund managers have recently taken steps to embrace ESG investing.
Markel's ILS fund manager Nephila introduced an ESG impact fund earlier this year, while both Twelve Capital and Leadenhall Capital Partners have stepped up their ESG focus within investment portfolio management and risk selection.
Schulz said other opportunities in the ILS space include potential for long-tail casualty-type structures, while he believes the increasing convergence between rated balance sheets and collateralised structures lends itself to more underwriters starting up ILS-type entities.
"It makes sense for ILS funds to create a rated balance sheet for cedants. Innovation around that will get more interesting," he said.
Secondary perils
The industry loss experience of recent years has seen a substantial portion of activity dominated by what are typically termed secondary perils.
Lowther said these perils represent an opportunity and a significant challenge for the ILS space.
"We believe there is a sustained repricing of many perils taking place, driven by underlying large commercial models having primarily focused on hurricane," he said.
This has meant modelling tools for secondary perils are not at the same level of sophistication.
"To look at secondary perils we believe you have to make substantial and sustained investment in science and analytical resources," he said. "Augmenting the existing model vendor view on secondary perils is something we have spent a large amount of time on."
Lowther said various secondary perils will be impacted by climate change with the implications of this needing to be pieced together.
"I dont think it's adequate for managers to hide behind the fact these are one-year policies and will largely correct over time. We believe more work needs to be done up front and that's what we are investing in."
Swiss Re's Judy Klugman highlights pandemic risk as another peril where further research could enable the ILS market to provide greater solutions.
"There has historically been a robust market around life risks coming into capital markets," she said.
"We certainly know sponsors who are interested. Perhaps the next thing is how to think about pandemic risk after Covid-19."We are continually looking to expand the ILS frontier beyond just natural catastrophes," she said.
Click below to watch the latest episode of Prospective, in which we explore the key drivers spurring growth in the ILS market, the impact of Covid-19 on investor appetite, lessons learnt from major loss years, ILS at the mid-year renewal, and the future of the ILS market and the "next frontier".
Prospective: ILS - full episode