Leadenhall Capital's Albertini: ILS market is "thriving in sustainable way"
Attractive pricing and terms and conditions in the ILS market have paved the way for a "thriving and sustainable" future for the sector, according to Leadenhall Capital Partners' Luca Albertini, with ILS capital having now reached an "all-time high".
Speaking to The Insurer TV as part of the #ReinsuranceMonth interview series, Leadenhall's founding partner and CEO cited a stronger pricing environment, the development of models and improved terms and conditions as key factors that have made the ILS market attractive for investors.
"Clearly, with all the evolution that we've had in the last few years [in the ILS market], we've reached a level where the market is genuinely attractive. If you actually look at ILS capital still allocated to the sector, it is at an all-time high and that shows interest in natural catastrophe," Albertini said.
"We're pretty positive and very happy that our market is starting to receive the premium and the terms and conditions that are actually needed for the market to thrive in a sustainable way.
"It's all about sustainability, and ILS capital is looking for sustainable, long-term investment rather than opportunistic and that has been proven," he added.
Specifically looking at cat bond issuances, Albertini said this part of the ILS market is "very healthy", with a number of transactions being placed at the high end of pricing guidance during the first half of the year.
Albertini's remarks tally with a recent report published by Aon in which the broker said it expects cat bond market momentum to continue throughout H2 this year to match the record issuance levels of 2021.
Cat bond issuance reached near-record issuance levels of $12bn from 1 July last year to 30 June this year. The record level of $13bn was reached in the prior year.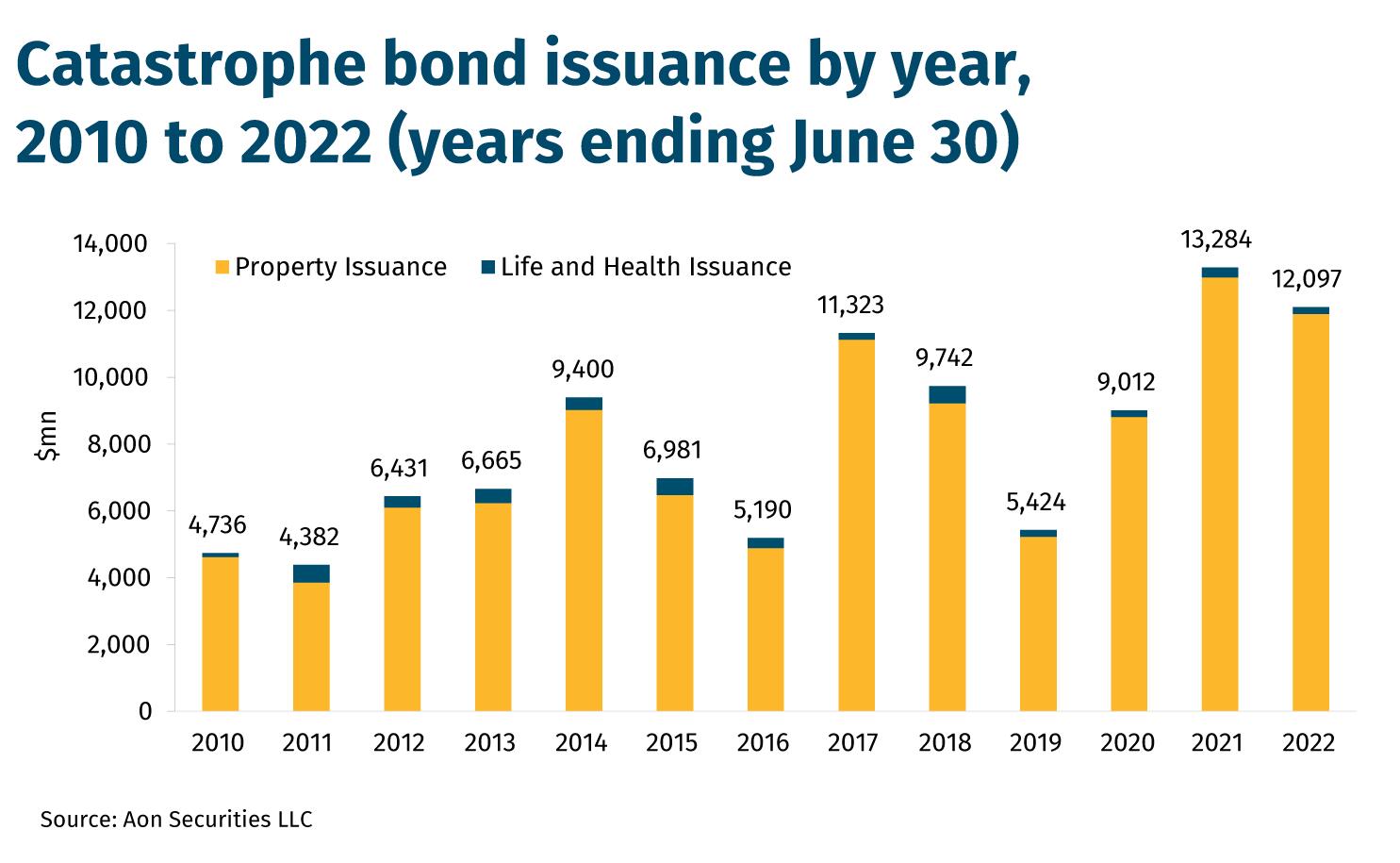 In addition to rate hardening, losses in the cat bond market have been less severe than in some other parts of the wider market, adding to its attractiveness.
Leadenhall's AuM dip to $5.9bn
Having lifted assets under management (AuM) at Leadenhall to $6.6bn in September last year, Albertini revealed during the interview with The Insurer TV that AuM has dipped slightly to around $5.9bn across its life and non-life portfolio.
Albertini said the company has been focusing on diversifying its portfolio of products.
"Life and non-life has always been around 50/50, but in our AuM base, currently life is a bit more but you know, this changes with the fundraising, and we have a number of initiatives on the way to raise funds at the end of the year, both in life, non-life and also we are looking at expanding on insurance credit," he said.
Albertini said the fund manager has also been enjoying growth through the backing of Bermuda reinsurer Nectaris Re, providing clients with an alternative rated platform that reduces the "structural problems" related to trapped collateral.
While the initial plan set out to write 10 percent of business directly into Nectaris Re, success has enabled it to increase plans to 20 percent this year, which Albertini said was "better than expected and very encouraging".
For the full 15-minute interview and to hear more from Albertini on Leadenhall's strategy for the next 12 months, the significance of ESG considerations for investors and more, visit www.theinsurer.com.