Aon's Dittman: Reinsurer appetite up at 1.6 as FL rates increase 25-35%
Aon's head of Florida strategy Chris Dittman has described the key 1.6 renewal in the Sunshine State as "orderly", with reinsurer appetite up and rate increases landing between 25 and 35 percent.
Speaking to The Insurer TV in a joint interview with Dan Dick, global head of catastrophe management at Aon, Dittman said 2022's 1.6 experience played a key role in helping clients prepare for discussions this year.
"First and foremost, clients have been preparing for this," he said. "They've reshaped their portfolios, they've done some re-underwriting and they started early with their placements.
"We had some market appetite for large, early private placements, which helped enormously to get a kickstart on things and we also had a more favourable environment in terms of what the state was offering from the Florida Hurricane Cat Fund, the RAP and the FORA perspective."
He added: "All of those things have led to a much more orderly renewal and I think the reinsurer appetite has increased as well for Florida, given some of the price changes we're seeing."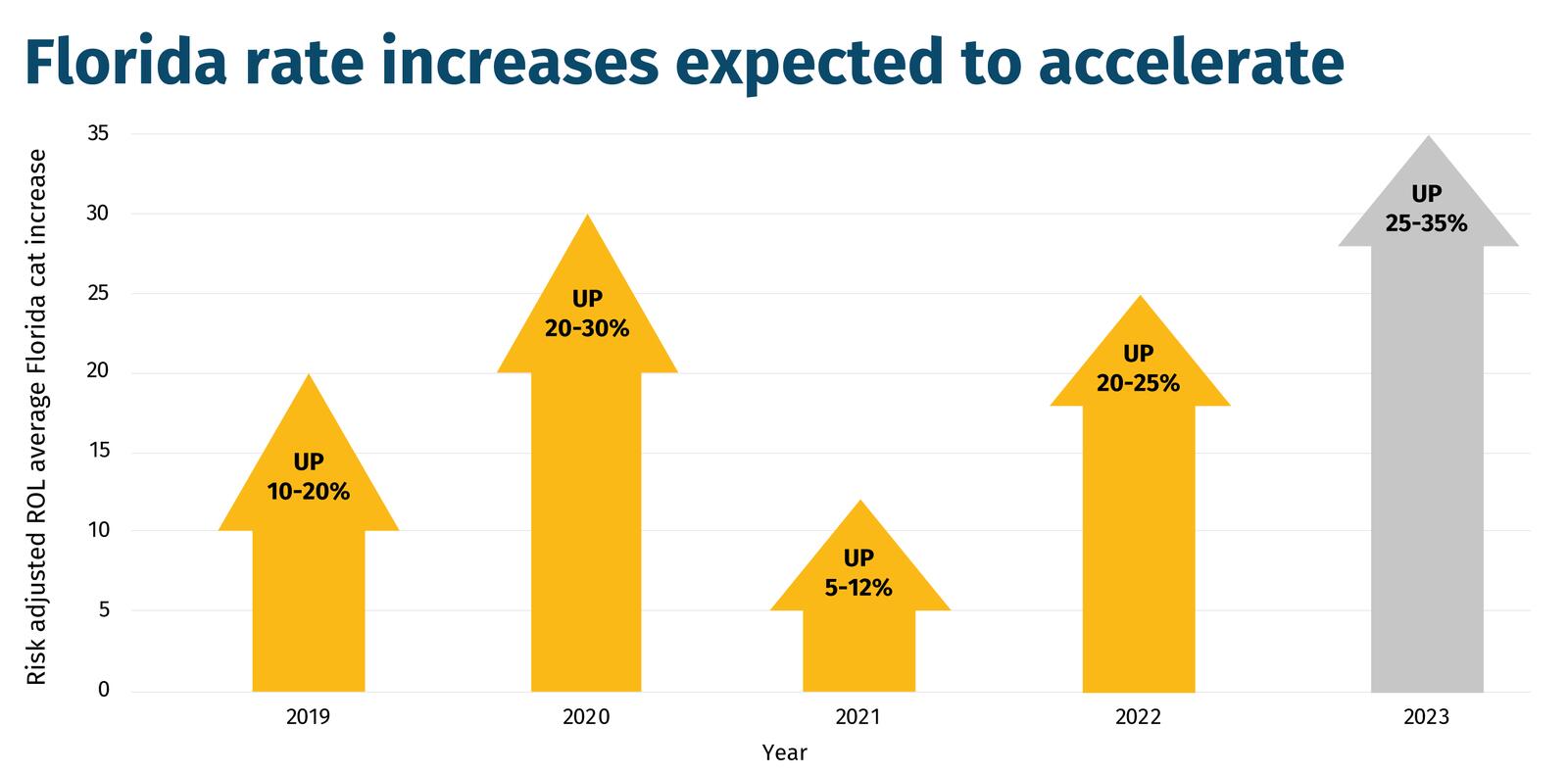 Reinsurance capital is coming back
Just a few months ago, buyers of Florida homeowners reinsurance were bracing for a capacity crunch at the 1 June renewal with serious concerns that a significant number of the Sunshine State's domestic carriers would fail to get cat programs placed and struggle to trade forward.
But according to Dittman, there is "ample" capacity.
"We're seeing ample capacity to clear the market this year," he said. Pricing levels have gotten to a point where yes, you are seeing the likes of Berkshire Hathaway and D.E. Shaw and some of these other markets come in and be able to support in a meaningful way and I think that will probably continue for a bit."
However, as the market moves through the hard cycle, Dittman expects this "support" to slow down.
"As we start to see the other side of the cycle, which I think we're already starting to see a little bit as we kind of plateau, you'll probably start to see them slow down, but others will step up in their way as I think we're seeing ample support for Florida right now. And some of our other mid-year southeast nationwide covers we're seeing even more support for those. Reinsurance capital is coming back," he said.
"Game changing" legislation
The recently implemented Florida tort reform package which seeks to address what has been described as "rampant abuse" of the legal system, has been well received by the insurance industry, with some trade groups calling the package "comprehensive" and the "most consequential in decades". Once the benefits of the reforms start to be felt, (re)insurance costs are expected to come down.
"I think the tort reform was game changing and historic and I think we're already starting to see the benefits of that and it will absolutely lead to more capital coming into the state, whether that be in the insurance carrier space or the reinsurance space - it's a game changer," said Dittman.
"It's going to take some time to put those prior accident years behind us and see the full benefits of the tort reform, but it will absolutely change the game in Florida," he added.
Modelling toolkit
With $100bn insured loss years becoming increasingly common, increased focus has been placed on the output of catastrophe models and perceived inaccuracies
However, Aon's Dan Dick said it's not so much about the models being inaccurate and more about specific nuances attached to an event.
"One in five of the last six years, the insurance industry globally has had over $100bn of loss. When you talk about the modelling and how the modelling plays through, I guess every event brings some kind of surprise to it," he said.
"In 2017, we saw the assignment of benefits pop up - particularly in Florida. But we did not see that in 2022 with Ian. The legislation really fixed a lot of that or changed a lot of that, but what we did see with Ian that we had not seen previously was inflation, not just on getting the values correct for what we're modelling and looking at, but we also saw inflation on the back end, after the event, in increased cost of the repair services, and specifically, the labour.
"So I'd say that it's not necessarily so much [about] inaccuracies in the model, but it's just nuances with each of these events that make some aspect of it something that had not been previously considered in the model," Dan Dick added.
Turning to what the industry can do to improve its modelling toolkit and improve exposure management for future nat cat events in Florida, Aon's global head of catastrophe management, said it's all about the data.
"So, I think one of the things the industry has done very well at in the last couple years, is to get a handle on inflation. With the modelling it all starts with the quality of data you put in and when you think about homes, specifically homes in Florida, there's not a lot of variability as far as construction type, construction style," he explained.
"It really is, can you get the valuations correct. Do you understand what you're insuring and what is the replacement cost? And we know replacement costs can differ from market to market."
He concluded: "I can say unequivocally over the last two to three years, we've seen reinsurers spend a lot of time and effort getting the valuations right. So I'd say it really starts with that. Understanding what you're insuring, and getting the best information you can into the models."
Watch the full 20-minute interview with Aon's Chris Dittman and Dan Dick on the 1.6 market experience and contributing factors