Apollo's Slaughter: Reinsurance crucial to next stage of cyber evolution
With no end in sight to the supply-demand imbalance in the cyber market, Apollo's CUO James Slaughter predicts reinsurance will be critical to the sector's growth and evolution in 2023 and beyond.
His comments follow Apollo's announcement that it will shortly begin underwriting cyber reinsurance at Lloyd's via a new partnership with Bermuda-based cyber specialist Envelop Risk.
"Cyber is one of the most talked about emerging opportunities in the specialty market, so it's difficult to avoid it," Slaughter told The Insurer TV in a joint interview with Envelop Risk's co-founder and CEO Jonathan Spry.
"The cyber market generally is considered to be one that's going to continue to grow and I think reinsurance is a critical part of that, particularly in developing products," he said.
Lloyd's is a pivotal market for cyber insurance with an estimated 20 percent share of the global $10bn+ market. However, it writes significantly less cyber reinsurance leading to suggestions that central management are generally more cautious on ceded cyber.
However, one notable exception is the new partnership with SoftBank-backed MGA and modelling firm Envelop Risk which will enable Apollo to underwrite cyber risks through its "ibott" Syndicate 1971 from 1 January 2023. This will include white labelling on behalf of other insurers – a component Slaughter is particularly excited about.
"When our clients typically buy their P&C and specialty insurance, cyber has typically been a big company-type product. We see that needing to expand beyond the more traditional cyber which is presenting a great opportunity," he said.
"[We're] using the data and augmented underwriting [provided by Envelop] to spread cyber more broadly and globally as a product, and it will need reinsurance to do that. We're excited because we think that demand will outstrip supply for a while to come, presenting an opportunity for us," Slaughter added.
Envelop Risk's Spry echoed Slaughter's comments on the need for cyber protection on a global scale, but warned of its complexity – "you don't get many easy nights' sleep with cyber".
"Clearly the market in the US and the larger corporates has matured, but there is a huge untapped potential to address the need for cyber protection internationally, and that is a really big part of the plan we're putting together here [with the partnership]," Spry said.
Indeed, the cyber market has seen large growth by insurance premiums. Figures from Swiss Re indicate global cyber premiums had reached around $10bn last year and are set to grow to $23bn by 2025.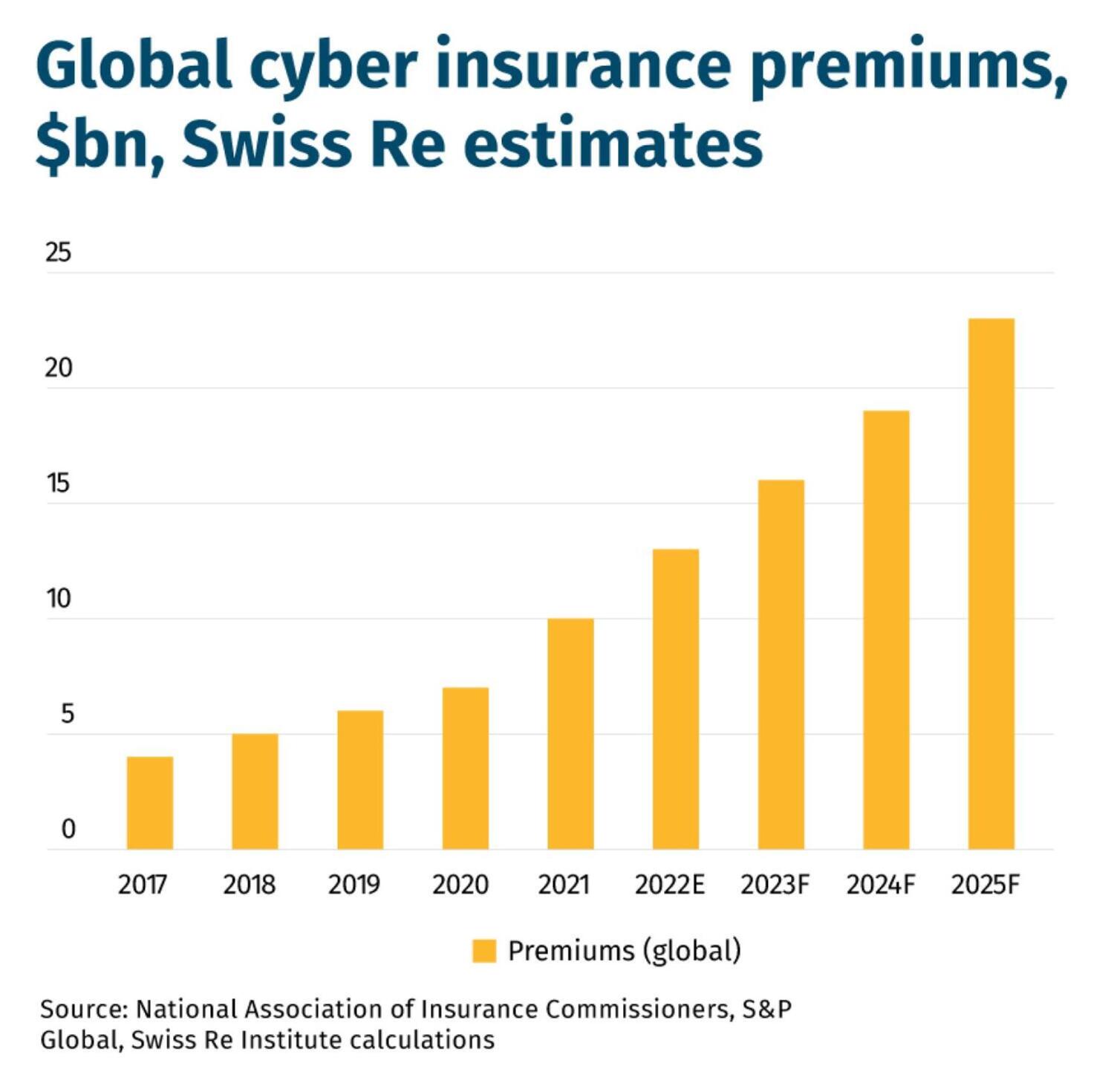 Envelop Risk and Apollo are not the only markets looking to grow their cyber reinsurance market share in 2023. Speaking at the Monte Carlo Rendez-Vous, Axis Re CEO Ann Haugh told The Insurer TV the carrier was interested in growing its cyber reinsurance business. Axis is already a top 10 market for direct cyber.
Further proof of this growth can be found in the amount of premium Envelop Risk now writes which has surpassed $500mn – most of it written on behalf of Zurich reinsurer and Envelop shareholder MS Re AG.
Spry pointed to a steady maturing of the cyber market, underpinned by a gradual shift from proportional to non-proportional reinsurance, as a sign of the market's evolution.
"I don't necessarily know that that change in buyer behaviour is going to be as marked as some people have predicted. I think that's a gradual process over time," Spry noted.
He explained that Envelop Risk's cyber business is roughly evenly split between proportional and non-proportional, which means it could be "net overweight" in non-proportional compared with some of its peer group.
Speaking of market conditions, Slaughter compared the cyber market to the property catastrophe segment, where the dynamics around the availability of capacity will make it hard for large buyers to place their business.
"Property cat provision of coverage will be a fascinating 1.1 discussion and I think large buyers of D&F property insurance will be finding out just how difficult some of it is to purchase. Cyber is semi-analogous to that," Slaughter noted.
He continued: "The industry finds a way to service the clients where it can. Sometimes shortfalls in capacity make it more challenging and it clearly has a macroeconomic effect in terms of price. I think the reality in cyber is that the risk landscape is still fairly uncertain."
In this 14-minute interview, Slaughter and Spry discuss:
The role of reinsurance in developing the cyber market
How (re)insurance products need to adapt to clients' needs to address supply-demand imbalance
Further details on the new Apollo-Envelop cyber reinsurance partnership
Where Apollo sees opportunities outside of cyber into next year