Dual's Johnson: Diversified portfolio and sustainable results key to attracting strategic capacity
Dual North America's diversified portfolio of programs has allowed it to deliver consistent growth as opportunities ebb and flow in different segments, supported by capacity relationships that are increasingly strategic in nature, according to the platform's CEO John Johnson.
Speaking to The Insurer TV from the Howden-owned MGA platform's North American headquarters in San Diego, Johnson said the firm's growth was underpinned by its "disciplined underwriters", along with its long-term approach to building its business and stewardship of its carriers' capital.
But he also highlighted the key role that having a diversified portfolio plays in that, with Dual NA operating across 25 divisions, with 35 different products.
"Across that diversity, it allows us to be able to grow in different segments when the market allows for growth. In other segments, we may not be growing, but that diversity helps us grow. It's all built on sustainable results for our carrier partners," he said.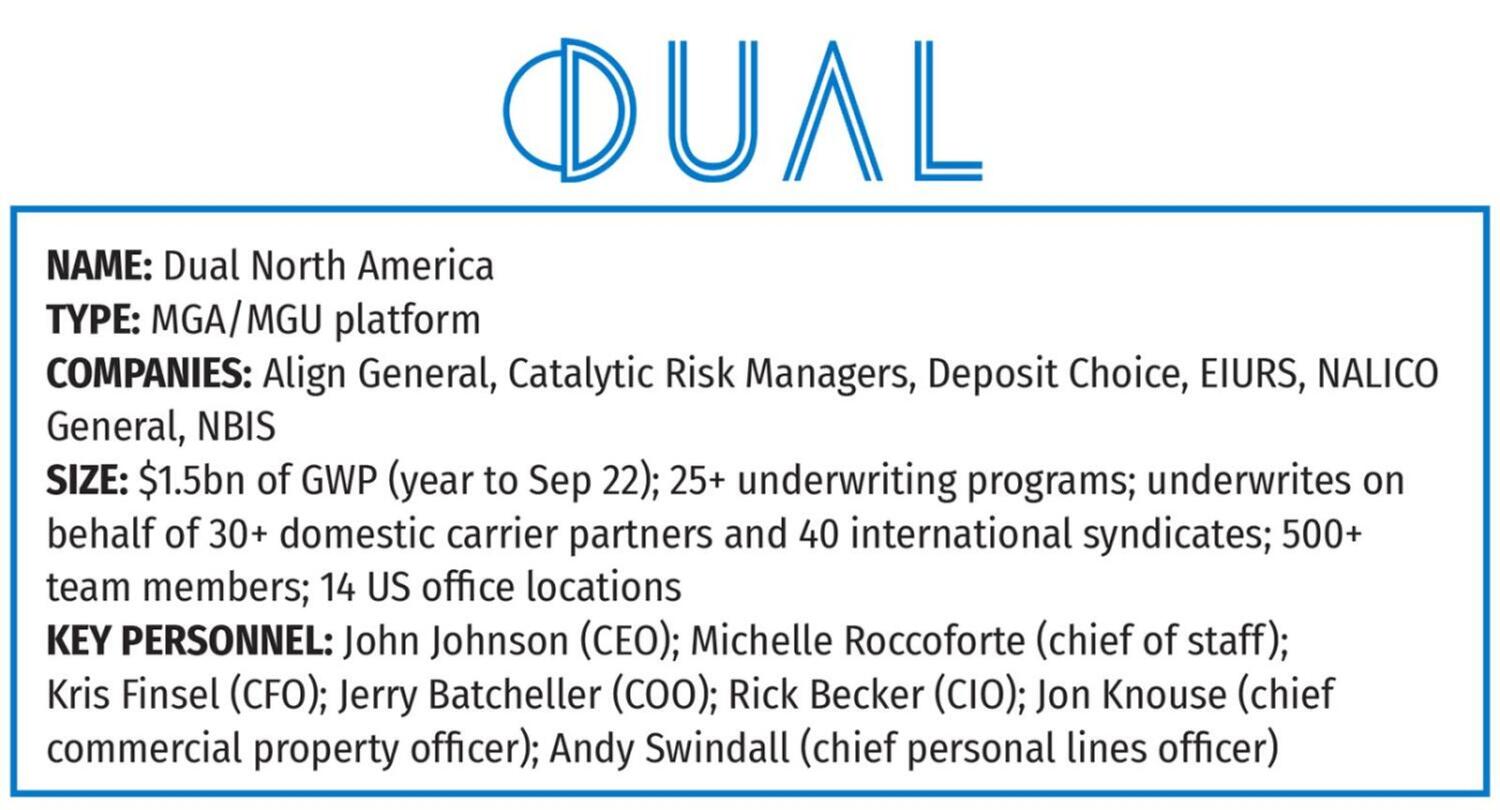 And increasingly, Dual NA's relationships with its carrier partners are becoming more strategic across its portfolio.
"A lot of our capacity comes from our diversity. We like to sit down with our carrier partners and show them the breadth of all the different products that we offer and ask them how they can grow with us. What would they like to do? What would they like to add to our portfolio?
"Our growth is based on sustainable results. So, as we're profitable for them, we can bring new lines of business to them, bring new opportunities to them, and help them grow in places where they're not seeing the opportunities today," said Johnson.
The executive added that carrier relationships are key as Dual NA continues to build as a business, and as it looks to align its growth objectives with its partners.
"We're looking to say, what do you want to do within your business that you're not doing today and how can we bring these products to you? We like to think of ourselves as an arm of the carrier … And that's really an important piece of how we grow with our carrier partners," he continued.
Johnson explained that strategic capacity can come in a variety of forms, such as domestic US paper, international paper – including London – as well as alternative capital.
For Dual NA, a key focus is in understanding carrier appetites and making sure it is a natural fit for the platform's long-term growth plans.
"Capacity is malleable, there are a lot of different avenues to capacity, and we want to think about how we can grow with the carrier partners because they see everything we're doing. We'd like to show our carrier partners the breadth of all of our products so they can say, 'I'd really like to expand and I'm interested in what you're doing over here,'" the executive added.
On the subject of alternative capital, Johnson noted that the firm creates different mechanisms to bring capital into play, whether through primary or reinsurance, or alternative facilities.

Talent key to product expansion
Dual NA has been active in launching new programs and products in the last couple of years.
And Johnson said its ability to generate a strong pipeline of products is entirely down to accessing the right kind of underwriting talent.
"When you look at how we look at our business, and how we think about our business, we look at different segments. And first of all, is it a good segment for the general agency space. If it's a good segment, and we think that we can build a profitable portfolio for us and our carrier partners, then we go out and say, who is the talent that we want to bring in?
"Our underwriters are always underwriters that our carrier partners would want to have on their own team. We always look for best-in-class underwriters to bring it in. Once you have that talent in, now you're differentiating yourself in the market," he commented.
Having best-in-class underwriters ensures Dual NA programs are differentiated and at the front of the line with distribution partners, which in turn helps it select the best quality risks to underwrite.
The executive said underwriting talent is sourced often through referrals, or comes directly to the firm.
He suggested that the recent phenomenon of a migration of top underwriting talent from carriers to the MGA space is set to continue.
"I think it will continue for a while, and partly because what you're seeing is [that] it ties into some of the growth in the E&S space. So if you look at the WSIA conference, there is record attendance this year with 7,000 people.
"General agencies are really a big part of that growth in the E&S space, because it's a specialty product. It's stuff that's being pushed out of the standard lines, and is pushed over to the E&S [market] as a specialty product … That's something we bring to the table as a general agency, the ability to customise and create new products and new ideas," Johnson said.
As previously reported, Dual NA ended its 2022 fiscal year on 30 September at $1.45bn in GWP.
The strong top-line growth was in line with Dual globally reaching $3.2bn of GWP, including organic growth of 32 percent.
Vesttoo raises regulatory concern
The fallout from the Vesttoo fraudulent letter of credit scandal threatens to bring unwanted regulatory attention to the MGA and E&S sector, Johnson warned.
The executive said that Dual NA has no exposure or issues to deal with as a result of the Vesttoo affair, which has gripped segments of the industry, including MGAs and program business and the fronting sector.
"The industry needs to be very careful. If we allow things to happen like this within our industry, there's going to be a deeper push for regulatory reform," he cautioned.
Johnson noted that part of the reason for the shift in business from admitted to non-admitted carriers is because of the regulatory environment that standard lines insurers face compared to the freedom offered by the E&S model.
"If we're not doing a good job of managing ourselves, somebody else is going to want to step in and try and manage it for us. So I think it's incumbent on us to market sure we're doing the right things, that we're ticking the boxes to make sure the capital is in the bank and it's a real account," he commented.