Newfront's Lipkin: AI is a "once-in-a-generation opportunity" to reshape an industry
Newfront CEO Spike Lipkin has set his sights on re-imagining the broking landscape having laid out his vision for a new type of retail broker which has been made possible following recent breakthroughs in AI.
In a wide-ranging interview with The Insurer TV, the veteran tech executive argued that advancements in AI have created a "once-in-a-generation opportunity to reshape an industry".
Lipkin launched Newfront in 2017 alongside co-founder and CTO Gordon Wintrob, with an aim to disrupt the retail broking landscape, and according to Lipkin, those bets "have a lot to do" with the technology his firm has been building.
"This is a once-in-a-generation opportunity to reshape an industry, and I think that bets will be made over the coming months and years that will have a multi-decade impact," Lipkin argued.
"So in some ways, it feels like [the breakthrough in AI] is sudden, but for us, this has been this gradual journey of building the data, building the infrastructure and building the team to be able to take advantage of a moment like this," Lipkin explained.
Newfront's CEO previously worked in real estate at Blackstone and was head of finance at fintech Opendoor, where his frustration with the insurance-buying experience motivated him to start his firm.
"You fill out these mountains of paperwork, you don't understand the products you're buying, you don't understand necessarily whether the products you're buying respond when you need them," Lipkin explained.
That experience, Lipkin said, got him "obsessed [with] thinking about this major problem of hiding in plain sight".
The Newfront CEO also said he was struck by how insurtech firms aiming to disrupt the industry have largely shied away from the brokerage business, whereas as an insurance buyer, he came to view intermediaries as "really valuable and crucial to the transaction".
Lipkin said his founding team's goal was to bring insurance and technology talent together with a "vision" to "de-risk human progress".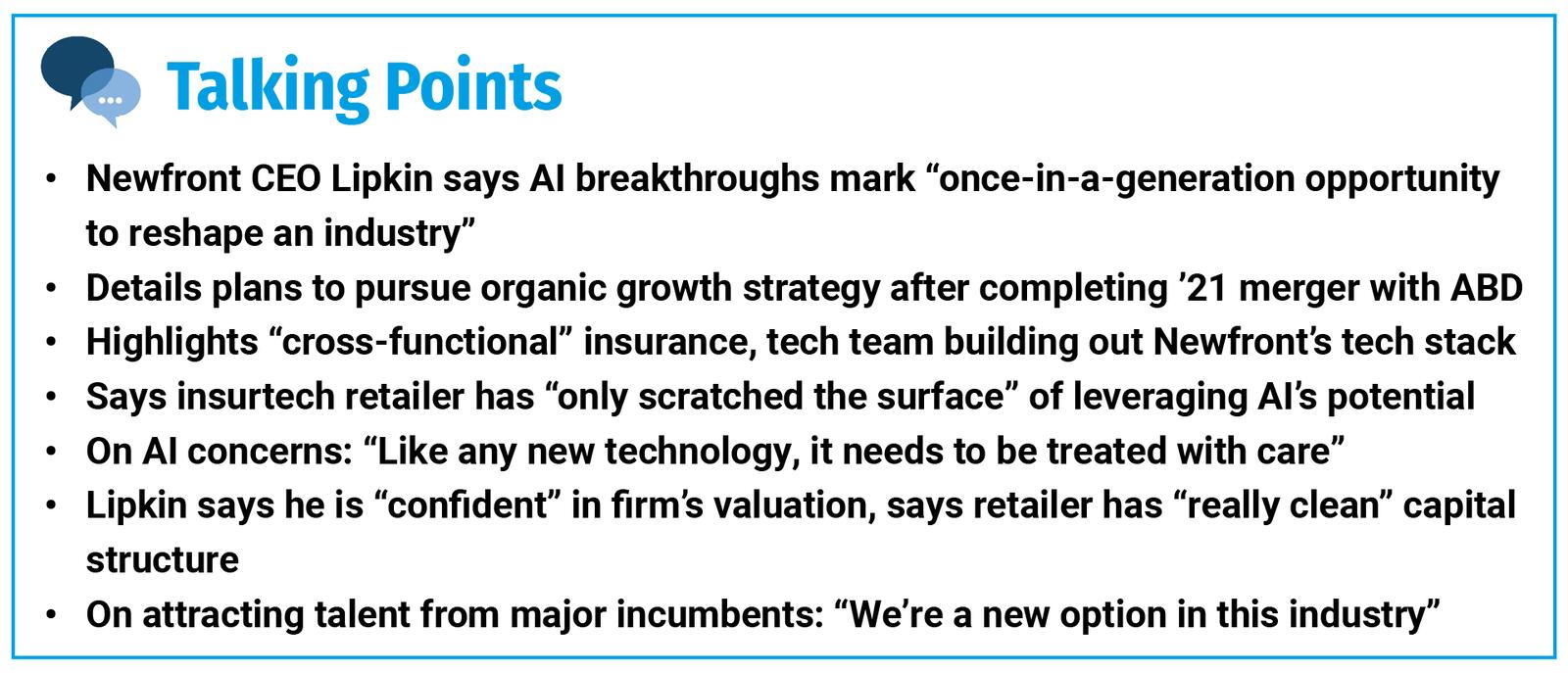 "We believe that if you can de-risk growth and innovation, you can help organisations build a better world and ultimately drive human progress."
Newfront is now made up of a staff topping 800 and Lipkin says among the firm's clients include 20 percent of US unicorns – or privately held firms valued over $1bn.
"Playing a different game"
Lipkin said he wasn't aware of other industry brokerages taking a similar approach in their use of technology and artificial intelligence.
"We're really playing a different game. We have been playing this game since the beginning [and] have been working towards this moment since the beginning. And so I'm not aware of anyone else doing it," he explained.
The work Newfont has undertaken in its six-year history has revolved around building out its "data model" to "represent businesses and coverage" along with staffing up to where the firm now has 60 data scientists on staff who he says are "spending everyday investing heavily in this platform".
"I think that what we are doing is very, very differentiated relative to our peers. And to take advantage of these advances you need that infrastructure, you need that data model, and you need that team."
Asked if Newfront was more focused on bringing in more tech or industry talent, Lipkin said Newfont "has completely changed the roadmap" for its hiring plans based on recent major breakthroughs in AI, specifically related to advances in large language models.
"Our tech team is hyper focused on incorporating these large language models into our product, and then delivering them to colleagues and delivering them to clients," he commented.
Commenting on where the brokerage is in the build-out of its technology platform, Lipkin said that like "all great technology products, it's never done".
"I think we've only scratched the surface of what's possible, even though we've invested six years and have a very differentiated experience today," Lipkin explained.
Addressing some of the potential concerns that have arisen over the rapid development of AI, Lipkin said that like any new technology, "it needs to be treated with care".
Organic growth focus
Newfront is operating in a retail landscape that has witnessed enormous consolidation in recent years with a number of firms pursuing aggressive growth strategies through M&A.
Newfront itself combined with San Mateo, California-headquartered ABD Insurance and Financial Services in August 2021 in a deal that at the time valued the combined firm at $1.35bn.
Lipkin highlighted the fact that both firms were "growing at rates materially higher" than their peers, to make the case that organic growth would be the main driver of Newfront's growth moving forward, while adding that the company doesn't have "any M&A plan".
Lipkin instead argued that the deal with ABD was driven by bringing together a "truly elite professional team, with a truly elite technology and operations team".
"So going forward, our focus is organic growth. We think that we can deploy capital and continue to build our culture in a much more productive way by growing organically," he said.
Newfront has also had a wave of significant hires, which has included at least seven prominent recruits from Marsh in recent months.

"A lot of what has attracted people is the fact that we're different. "We're a new option in this industry," he said.
Cross-functional teams aiding tech build-out
Lipkin says Newfront's insurance team works closely with its technology team to develop and iterate technology to create tools that address client needs.
"That's really exciting to a lot of the folks that join us," Lipkin explained. "They have been toiling away doing something a certain way, sometimes for decades. And they see this potential and be part of changing how the industry operates."
Lipkin said his company isn't interested in building technology for technology's sake, but that Newfront is focused on improving client outcomes, which includes offering them more transparency and making better decisions.
"[Technology] is helping [clients] understand how their insurance program relates to their peers, but really helping them be forward-looking and think about the potential impact of various scenarios on their insurance program," he said.
"That's what clients care about and technology just happens to be the vehicle that helps them get there," he added.
Lipkin also said that "technology is only moving in one direction in our industry" as he said tech advances would improve "every aspect of buying and managing insurance", including filing claims.
The executive also said his company has been building a "master data set" aimed at not only helping clients transfer risk, but also working with clients to reduce risk and mitigate claims.
Lipkin acknowledged that "scale is important", but said: "You've got to have structured data to make this scale valuable."
"It's doing what some of the best brokers are already doing, but doing it in a scalable, data-driven way," Lipkin explained.
"Scale matters when you have structured data," he added.
"And if you have data scattered across 1,000 offices, and 10,000 file cabinets, the data is not going to go to work for you. And so the system we built and now with these AI tools, it allows us to take advantage of this data," Lipkin argued.
"Confident" in Newfront's valuation
Newfront raised $200mn last April at a $2.2bn valuation with capital coming in from Goldman Sachs' asset management arm and Silicon Valley stalwart B Capital.
Lipkin openly declared Newfront's ambition is to "reshape the landscape of insurance and benefits" as he also said the firm ultimately plans to become a public company.
The CEO said Newfront is currently at scale to be a public company today, but refrained from putting a timetable on when the firm could list.
Lipkin said his company maintains a "really clean capital structure" without any debt, as he also said he and his management team are "confident" in how Newfront is valued.
"If you look historically at Newfront, we've grown on an organic basis at rates that are materially higher than our peers" which he said has continued.
"Investors have looked at brokerage multiples in the public markets as well as private transactions and on a growth-adjusted basis, they valued us using those multiples," he explained.
He also made the argument that the best way to generate enthusiasm among shareholders is "to take care of our clients and take care of our colleagues, and the rest will follow".
Finally, Lipkin brushed aside cynicism he has encountered from industry incumbents and competitors who have been in business for decades.
"Anytime you're doing something different, there will be questions, and I think it's incumbent upon us to answer those questions in a really definitive manner," Lipkin concluded.
Editor's Note: A previous version of this article had listed Newfront's valuation at the time of its merger with ABD at $350mn. This has now been corrected to and updated to reflect the correct valuation, $1.35bn.