BMS' Gillett: International unit to grow "aggressively" by 2028
BMS International CEO Nick Gillett is bullish on the division's "aggressive" growth plans, estimating that by 2028 the business will have quadrupled in size, with M&A activity a key strategic element.
Having already doubled in size between 2020 and 2022, Gillett told The Insurer TV he expects the international business to double again between 2022 and 2023.
The ambition is to grow the international business 4x between 2024 and 2028, which can be summarised as a compound annual growth rate of 49 percent between 2019 and 2023 and 29 percent between 2023 and 2028.
"I think we're going to see a doubling again in 2023, but with a view that we're going to take that and probably grow four times larger in the next four to five years," he said.
"There really are quite aggressive plans to grow and we'll do that within existing classes of business, complementary classes of business and M&A," he added.
Gillett joined BMS as CEO of international in January this year from Aon, where he most recently served as UK and EMEA head of market strategy and development.
Since starting at BMS, Gillett explained he's been doing a lot of "listening and travelling", getting to know the business and seeing where the opportunities reside.
The international business has hubs dotted around the world in Japan, Australia, several European countries, Turkey, South America and Canada, among others.
"What we're looking to try and do is really grow out the capabilities that we have in each of those offices," he said.
"Of course we're mindful of the fact these capabilities are very, very different in different territories. But the idea is to grow out the capabilities that we have, to look at complementary lines of business to enhance the opportunities in certain regions and then look at M&A opportunities in each of those territories where it makes sense, and where we can partner with like-minded, ambitious firms," Gillett explained.
BMS has been "pretty active" in the M&A space over the last 12 to 18 months, having completed several transactions, expanding the intermediary's global footprint.
"We've completed about eight acquisitions, predominantly in Australia, but also in Spain," said Gillett.
"We've also done one in Latin America as well and we're always on the lookout for really good companies that actually have the same approach to culture, have the same level of growth and ambition around the specialty space.
"In every territory, we're looking at opportunities in the M&A space."
According to Gillett, it's "still good" to be an acquirer. "I think it is still a strong market."
He continued: "As well as looking to acquire businesses from around the globe on the international side, we are very keen to attract good businesses that have the same level of collegiate perspective.
"They need to be very strong on the specialty broking side, so it's not all about us constantly going out and actively looking to bind companies that we can partner with, but instead it is actually a little bit the other way, that companies come to us with a view that they see BMS as a partner, and as somebody that can help them grow their business."
International specialty in "rude health"
BMS operates in most major specialty lines of business, enabling a good vantage point on the current state of the market.
While Gillett believes the market to be in "rude health", the rating environment can be challenging.
"I think we always have to be very cognisant of the fact that, especially at a small, very specialty-focused and nimble firm, we have to be quick thinking on our feet with regards to looking at opportunities and looking at potentially underserved areas of the business that we perceive that BMS can really make a difference," said Gillett.
"We need to be able to access the market in the best way possible for the benefit of our clients. But overall I think the market is in relatively rude health and is enabling us to achieve what we want to," he added.
The cyclical rise and fall of the rating environment across the different specialty classes in different territories can be a challenge.
"In London, the hardening phase continues, although I think we may be coming to near the top of that cycle at the moment," commented Gillett. "In general, I would say the challenges have been felt less on the international side.
"For example, in the Australian market, we're not struggling for capacity to enable us to complete orders for our Australian clients. As a matter of fact, what we're actually seeing in some classes is an actual return to the market, for example, on the D&O side. We're actually seeing markets wanting to come back into that area of the business."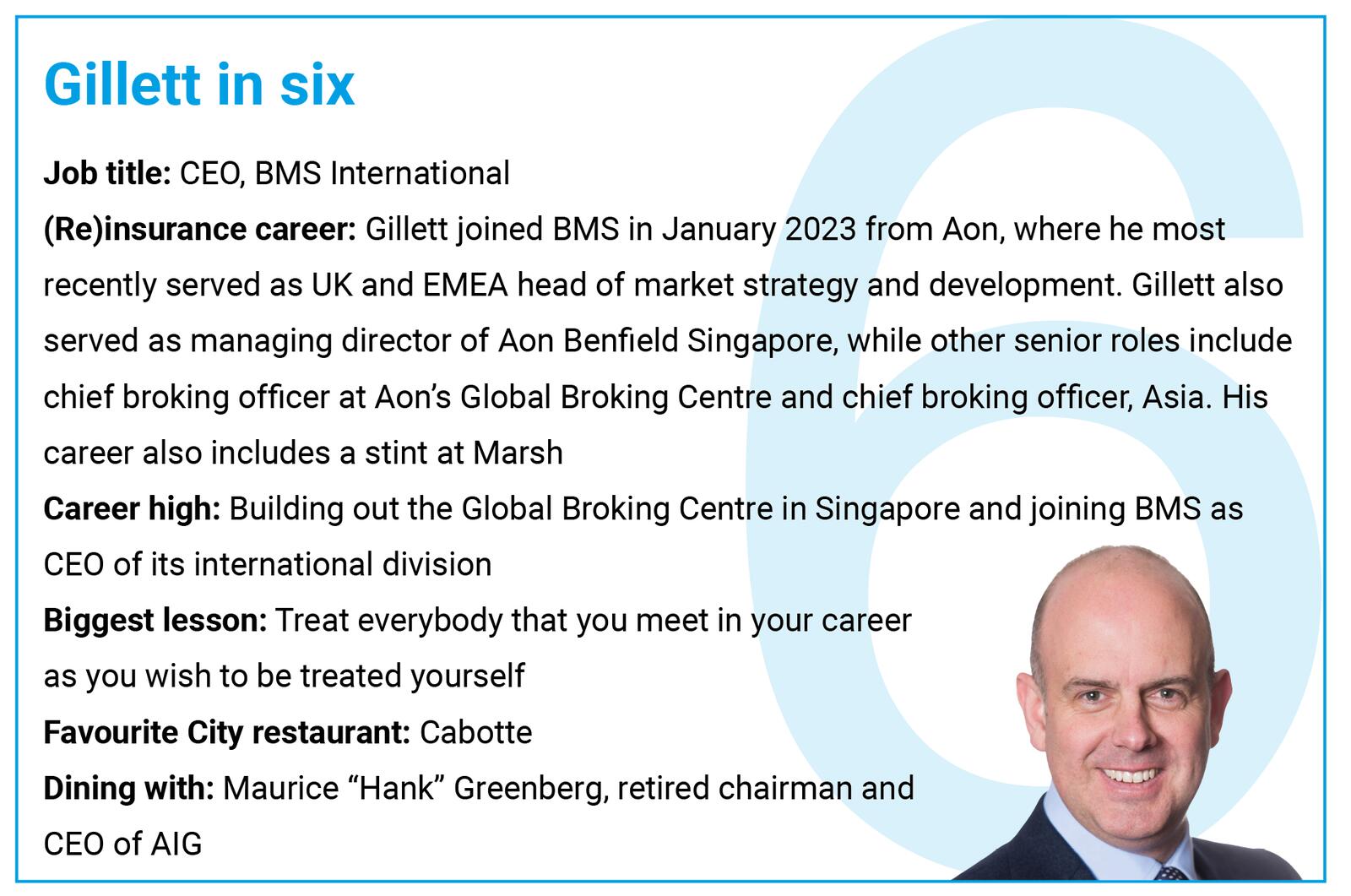 Watch the 24-minute interview with BMS International's CEO Nick Gillett to hear his thoughts on:
The division's growth plans and targets
The role M&A will play in achieving growth in different regions
The current health of the international specialty market