CyberAcuView's Camillo reveals approved cyber war language
CyberAcuView has received approval from the Lloyd's Market Association (LMA) for new war exclusion language that will provide US carriers and clients with an alternative to the updated London market wordings, The Insurer can reveal.
Speaking exclusively on The Insurer TV's News in Focus programme, Mark Camillo, the CEO of CyberAcuView said the achievement marks a significant development in the cyber insurance industry, offering an alternative to the London market wordings which have caused recent tensions between (re)insurers and buyers.
"We have the approval," confirmed Camillo. "So, the CyberAcuView base policy form along with the extensions are posted to the LMA website.
"We were actually working on a CyberAcuView insurance policy before the mandate had come out and it was around this whole idea around standardization. We wanted to demonstrate that there are certain ways to provide more consistency across definitions.
"Recognising that today, an insurance carrier wasn't going to take the CyberAcuView form and use it carte blanche, but as they're updating wordings, as they're looking at updating their forms, it would be good to have that available as a resource," he said.
Lloyd's decision to mandate the implementation of its war exclusionary language from 31 March for all Lloyd's syndicates prompted some backlash and frustration - namely around business being transferred out of Lloyd's and placed with alternative markets.
The new CyberAcuView wordings are an attempt to "bridge the gap" between Lloyd's and US buyers.
"The hope is that, particularly for policyholders who are trying to put together capacity and trying to build towers of insurance, having a CyberAcuView form that the members generally support can help build some of that concurrent language through the tower," he said.
Addressing things differently
This new language is a product of the organization's efforts to standardize cyber insurance definitions and policies.
CyberAcuView's war wordings address issues of attribution and major detrimental impact differently from Lloyd's war exclusions, according to Camillo.
"When you look at the way that CyberAcuView approached it, one of the areas that we take a different approach is around attribution and we've also dealt with major detrimental impacts a little bit differently," he said.
"So those are some of the key areas and the members did feel there were areas that could potentially cause systemic losses that are even broader than a war. And so that's one of the reasons why we created some widespread event language to try to look at all the causes, whether they were ideological or financially motivated," Camillo explained.
"So a member could look at the war exclusion, the infrastructure, the widespread event in tandem to make sure that when they are making decisions, looking at their own individual risk appetite, they feel like they've satisfactorily addressed the risk," he added.
CyberAcuView initiatives
CyberAcuView, established two years ago, is a collaboration between leading cyber insurance companies such as AIG, Axis, Beazley, Chubb, The Hartford, Travelers, and Liberty Mutual.
The primary goal of this platform is to enhance the efficiency of the marketplace and ensure the long-term availability of cyber insurance products. The initiative is open to all direct writers of cyber insurance and has already attracted around 20 participating members.
Furthermore, CyberAcuView has expanded its membership to include reinsurers, allowing any risk-bearing entity to join.
"We anticipate we'll probably get to 25 or so members [by the end of the year], with a few more reinsurers to potentially join," Camillo confirmed.
"When you look at the US market, and the claims that we have, we have about 60 percent of the US cyber insurance market that currently participate, so it feels like we have enough critical mass to really start moving some of our initiatives forward," he added.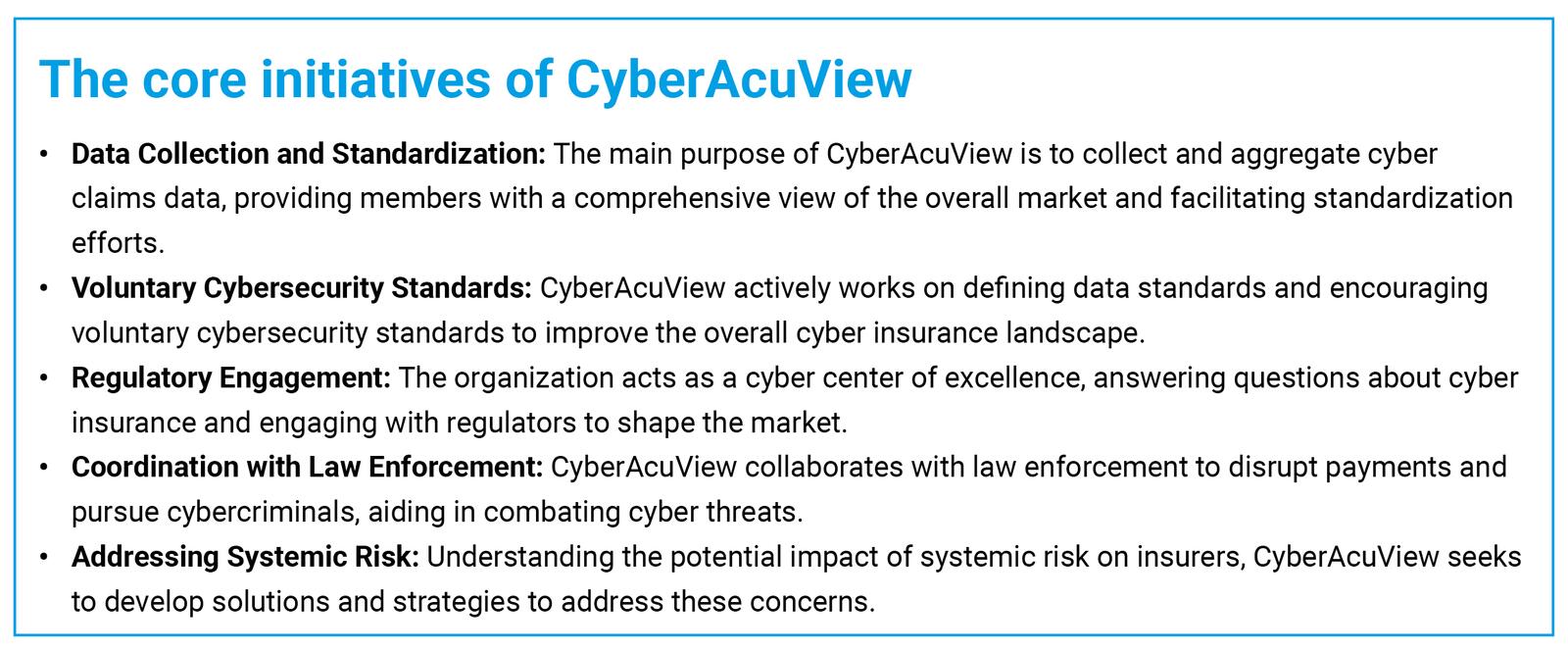 Database ambitions
Looking ahead, CyberAcuView aims to continue expanding its membership and data collection efforts, according to Camillo.
"On the data side, it was one of the core reasons for creating CyberAcuView," said Camillo. "The core goal from the beginning was to start to help create similar types of data that insurers could tap into.
"It's been about a year since we launched the CyberAcuView insurance database. It's only in the US but we're keen to emulate it elsewhere. We go back to 2019 and we have about 30,000 claims, over $3bn in payments. And we've tried to come up with and put together a template with the data that insurers would have today," he said.
With plans to include the UK and Canada in the database, Camillo believes that better data and insights will drive growth in the cyber insurance market.
"There's a lot of demand for this," he said. "And as you start looking ahead with everything else, like artificial intelligence and such, I think that cyber is a growth product. We're really hopeful through a platform like CyberAcuView, that we can address a lot of the potential issues and hopefully create a more efficient cyber insurance marketplace," he concluded.