Howden Tiger's Richardson: RFP season almost 365 days a year
"Waves and waves" of requests for proposal have been coming in, according to Howden Tiger's vice chairman Elliot Richardson, who told The Insurer TV they have now become "almost a 365-day-a-year" feature of the market as cedants look to "sense check" current arrangements.
In a wide-ranging interview with The Insurer TV, Richardson spoke of the "fresh perspective" he feels Howden Tiger has brought to the RFP process.
"But we also don't want to live off the back of being just fresh, new, or different," he said. "We want to be able to bring real solutions and I think our clients really enjoy the way we approach their needs and the fact that we're bringing fresh ideas. One of the worries I have always had in a hard market is that innovation sometimes slows down because it's easier to not focus on innovation.
"But we also need to continually look at the way reinsurance is structured," he added.
"There's more and more hybrid business out there, where it's not fac and it's not quite treaty and not quite ILS. And so, our company structure needs to be flexible enough to work with those businesses and I think we're really getting a good reaction from the reinsurers on that basis.
"Obviously, RFP season is almost becoming a 365-day-year thing, and we've been incredibly well supported in the RFP process," he said.
According to Richardson, cedants are increasingly interested in "sense checking" reinsurance arrangements and perhaps looking at alternative solutions which require a different broker perspective.
"We knew we had to be ready for that, and it's astonished us how many RFPs there are – it's just waves and waves," he said.
"We built the infrastructure to make sure that we had consistency in our RFPs and made sure that we delivered to clients a very clear and distinct feel for how Howden Tiger operates. We also made sure that we brought the right people into the RFP, listening to what the client was asking for.
"It's a criminal offence in Howden not to put the right people in the room," he added.
Having begun his career as a fac broker 35 years ago, Richardson said it's "incredible" to see how the market has evolved in the last 20 years.
"The respect that people have now for the fac market and the critical role it plays is incredible," he said.
"It's probably 10 times bigger than it was 20 years ago, and the amount of people that come to me and say, I'd like to be a fac broker is increasing, which is great as no one ever wanted to be a fac broker."
He added: "I think it's a wonderful testament to everyone who works in the fac market that they've worked so hard to deliver a really credible product, and it's growing like crazy. Twenty years ago, you'd have two people on a very large US account buying fac. Now, almost the entire panel does, because it's absolutely a key part of dealing with a risk."
Richardson also commented that he doesn't believe the renaissance in the fac market is linked to the current market cycle.
"I just don't think it's going to change and I don't think it's market linked," he said. "I really don't think it's anything to do with the hard market. I think it's absolutely part of how it rolls through all the cycles. We've seen this for 20 years, so they will just continue to grow."
European MGA market "blowing up"
The merger of Howden RE and TigerRisk created SabRE, one of the largest MGA/program broking groups with over $6bn of premium.
A recent report by Howden Tiger and investment management firm Conning – Travelling Light – estimated that premiums underwritten by non-insurer affiliated US MGAs alone have more than doubled since 2018, rising to $33bn in 2022.
Overall, US MGAs underwrote in excess of $85bn in premium in 2022, Conning calculates, which suggests the global MGA market is now significantly in excess of $100bn.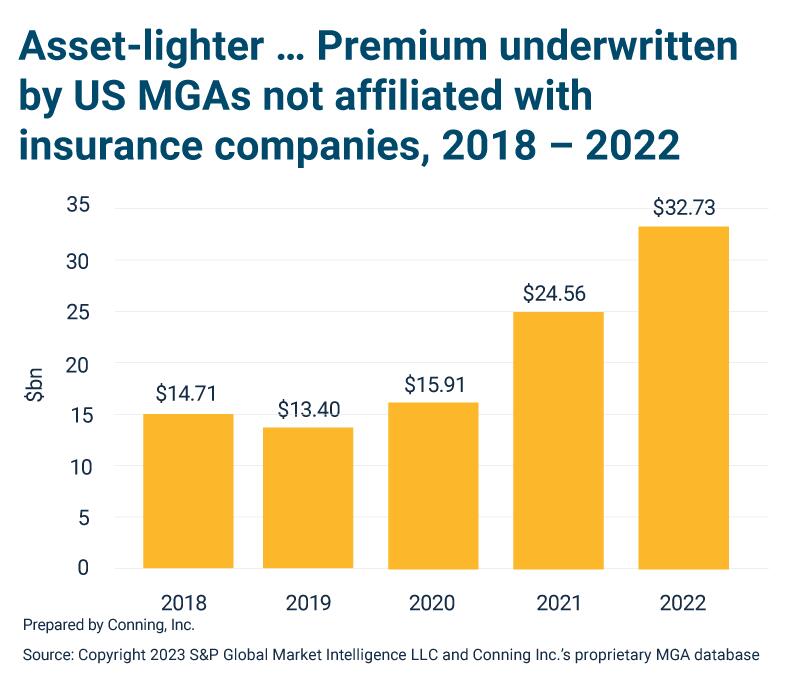 But Richardson is looking at the "huge" opportunity across the Atlantic in Europe for the next frontier in the MGA and fronting space.
"I think there's probably two sides to this coin," he said. "There's the US, and then there's the rest of the world, and I think the rest of the world is going to explode in growth."
In Europe, Richardson estimates there's roughly $10bn of premium in MGAs, with over 500 MGAs operating in the region.
"That market could go to $30bn very quickly. I think Europe is going to be the next big area for MGA explosion. I think in the US, where we've almost had so many fronting vehicles emerge, at the end of every cycle or the end of every economic cycle, there will likely be a phase of 'survival of the fittest'. It's an evolution element."
He concluded: "The whole game is changing at such a speed that I don't think people can quite understand what's happening in the MGA space. These people are highly sophisticated entrepreneurs, and they're thinking all the way through the value chain and the capital stack.
"I think MGAs themselves will look at their capital and how they deploy that capital in a very, very different way. I think this will mean that you're going to get a very strong and fast-growing MGA market. I still personally believe that it will double in size in the next five years. I think the Rubicon has been crossed."
Watch the second part of The Insurer TV's interview with Howden Tiger's Elliot Richardson for his thoughts on market conditions and the drivers behind these; the RFP market; MGA explosion and more.
If you haven't already, watch Part 1 of the interview, where we discuss the high-profile poaching dispute Howden recently settled with Guy Carpenter. Exclusive insight not to be missed!