Leadenhall Capital's Albertini: ILS market relishing "perfect" growth conditions
A "perfect combination" of heightened interest from investors, attractive returns and demand from buyers has led to some of the best conditions for growth in the ILS market, according to Luca Albertini, CEO and founding partner of Leadenhall Capital Partners.
In an H1 update with The Insurer TV, Albertini also pointed to interest from new investors seeking diversification as a factor driving the ILS market's growth.
"On the traded assets, the main driver has been how attractive the liquid ILS has become to a wider investor audience," he said.
"We have traditionally been focused on pension fund investments, and what we have seen now is the entry of money markets and other types of investor, attracted by the particularly high risk margin and the absolute return also being higher than it has been for a long time."
According to analysis by The Insurer, the aggregate total of new 2023 cat bonds has already surpassed the H1 record set in 2017 and may yet nudge past the $10bn threshold.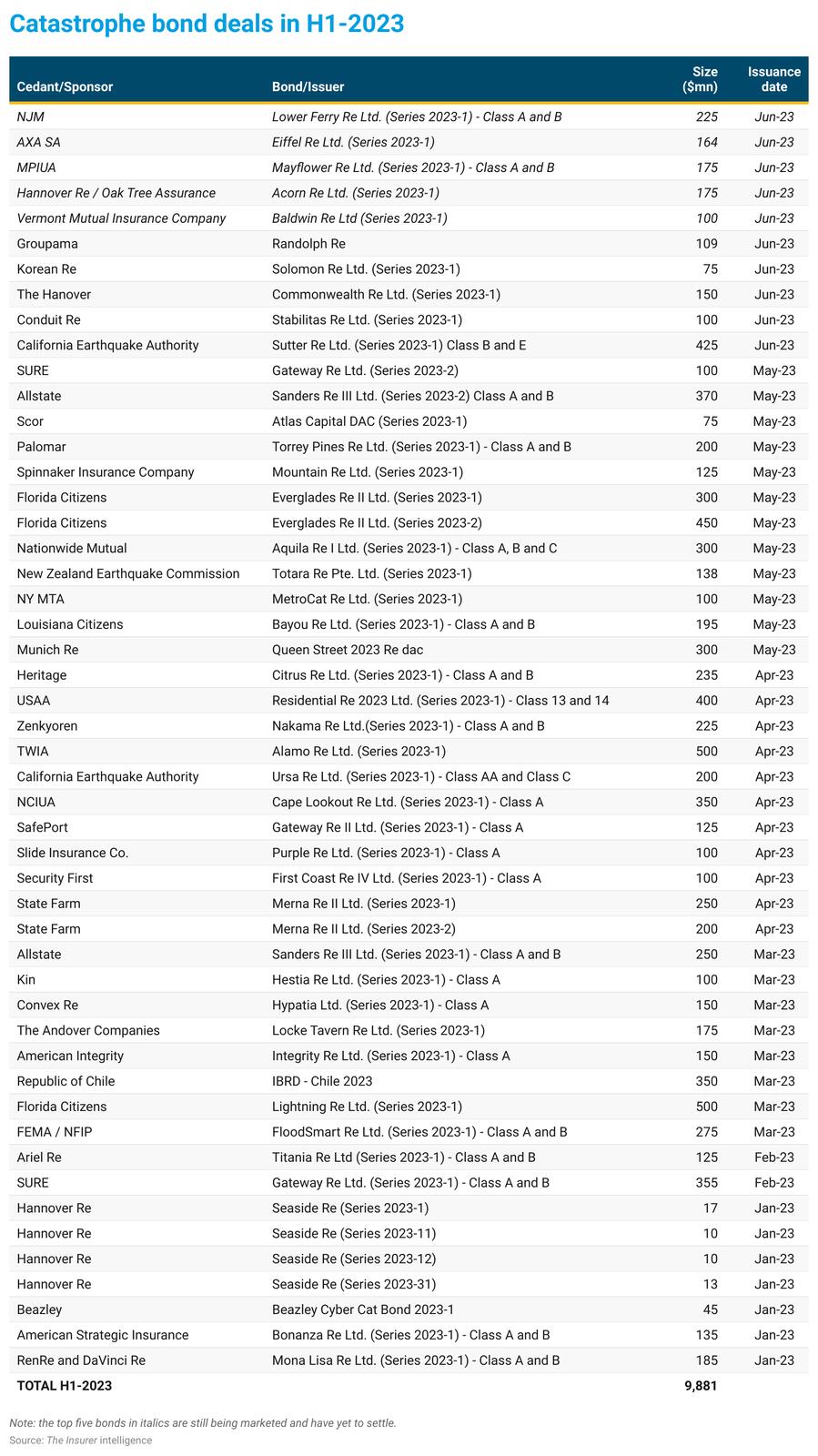 After a slow start to the year, investors are displaying a renewed enthusiasm for cat risk, driven by the stronger expected returns on offer from the rapidly improved market conditions together with improving investment yields.
"Clearly, supported by the risk-free base, but also the margin over the risk-free has gone up significantly this year," explained Albertini.
"This is being noticed and we did our job to make sure this was noticed by investors. But the other thing I would add is that investment into the liquid product is something that can be done with a shorter due diligence space.
"In a six-month period, where a lot of distractions were there for the wider investor community, and with the interest rate rises, the war, the credit crunch, people have started focusing on the liquid part of the asset class," he added.
As for the second half of the year, Albertini expressed optimism about the market's momentum.
"It's my job to make sure the momentum continues. But, clearly, all the underlying reasons why there has been an inflow are still there and I don't expect any material change. Perhaps, if we have an uneventful summer, I think there could be even greater momentum.
"If there is a very eventful summer, we will need to see what the impact is on the overall investment universe. But what I think is that in the second half of the year, potentially – subject to no other distraction worldwide – you're going to have more attention to all types of investments that are available to ILS, including the private ILS space," he said.
Investor reservations and adaptation
Addressing investor reservations, Albertini emphasised that the majority of investors are well-informed and have been well-advised, while acknowledging climate change is something that comes up.
"At the end of the day, one of the biggest reservations will always be climate change. But when we remind people that we started to price in climate change risk years ago, that has been well received.
"We have been studying how to analyse climate change and while it needs to be refreshed constantly, at least we have a methodology. That puts us ahead of other asset classes, where maybe the analysis is in its infancy," said Albertini.
Unexpected losses experienced between 2017 and 2021 have been acknowledged, leading to reforms and contract adjustments and have alleviated most concerns.
Despite some early investors taking profit or reducing allocations, most long-term investors have remained committed to the ILS market, reflecting a positive trend.
Non-cat ILS and analysing cyber
The Insurer TV spoke to Albertini prior to the news breaking this week that non-cat ILS-focused insurtech Vesttoo was facing an alleged fraud, causing concerns over collateral to reverberate in some areas of the market.
Discussing Leadenhall's appetite for non-cat ILS products, Albertini said the firm's life business is already providing some exposure and experience in this space.
"Long-tail, non-life is something we're starting to analyse, trying to understand whether what comes to the capital market is actually the good business or a bit of anti-selection is always the risk when you first move into something," he said.
"But we are spending time trying to analyse those asset classes as a balance to the nat cat exposure. But, more likely than not, if we were to invest into those, we will try to offer separate accounts," he added.
Regarding cyber ILS, Albertini acknowledged it is a complex subject that requires careful analysis.
While there is a high-frequency, low-severity risk associated with cyber events, the concern lies in the tail risks that could emerge from major events, including those driven by foreign states. Correlating cyber risk with traditional investment portfolios remains a challenge, making it an area that requires thorough evaluation.
"Personally, I don't fully understand it," he said. "And because of that, I've not participated in the recent issuance. It's not because of any particular distaste, I just think it's a very complex subject that needs to be analysed properly, and we may put resources to start analysing properly," he said.
"The question I have is: once I make sense of all that, assume that there is a loss, how correlating would that be with the general investment book of our investor? I think all the moving parts could actually lead to some level of correlation. Now, maybe people will say I'm not talking not very sensible things, but I haven't started looking at it," he said.
Watch the full 24-minute interview with Leadenhall Capital Partners' Luca Albertini to hear more on:
The outlook for the ILS market
Where investor confidence needs to be managed better
The future of London as an ILS hub
Diversifying Leadenhall Capital's portfolio