Markel's Noble: Complexity and volatility is where specialty carriers thrive
A challenging and complex trading environment with heightened volatility is creating opportunities for specialty insurers to thrive, as long as they focus on rate adequacy and underwriting profitability, according to Markel's president Jeremy Noble.
Speaking to The Insurer TV on the sidelines of the WSIA Annual Marketplace 2023 this week, the executive observed that in many ways the insurance industry has not faced such a challenging trading environment in decades.
He pointed to the post-pandemic world, sustained levels of economic inflation and the rising costs of settling claims amid social inflation.
This combination of factors means the cost or price of risk has gone up "significantly". At the same time, that environment has created a lot of demand, particularly for specialty solutions.
"Because at the end of the day, buyers and insurers also understand it's a complex trading environment, complex economic environment, volatility is real and there's a lot of unknown risks that they take on in their businesses, but they want to be able to grow and innovate.
"And that is really where we, in the specialty insurance marketplace, can thrive," said Noble.
The Markel president said the insurer remains "laser-focused" on attacking the opportunity the current environment has created, which has been a driver behind the E&S market growing in recent years to reach the $100bn+ premium milestone.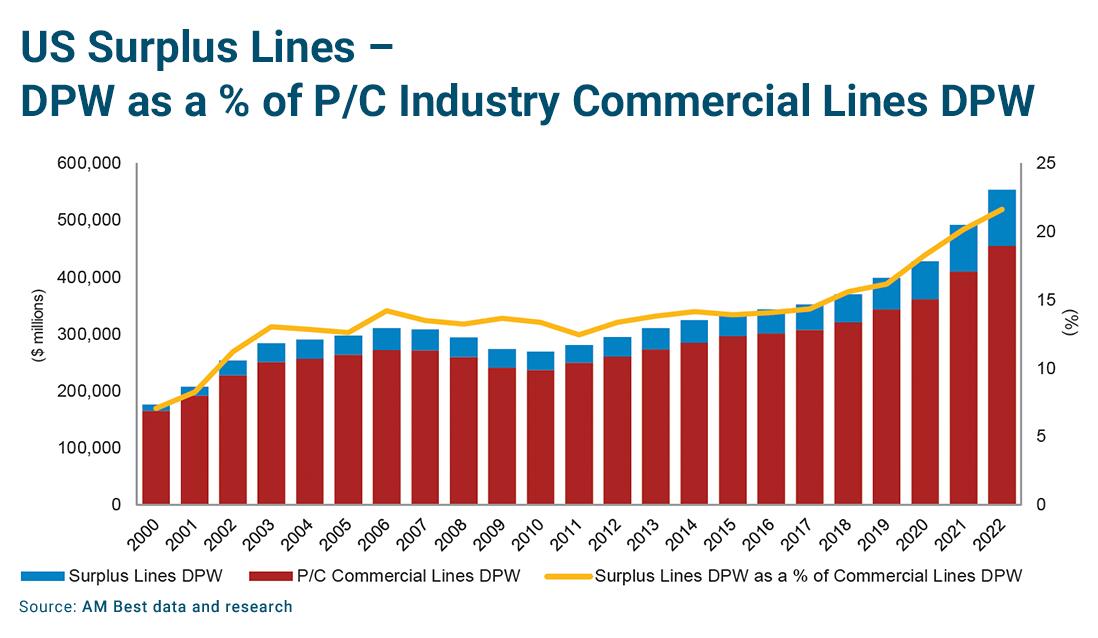 That focus is on rate adequacy and delivering underwriting profitability. It is also about segmentation strategies and how Markel approaches the market across each of the major product categories, he explained.
Noble pointed to "really favourable" trading conditions in areas such as property – which has re-hardened since Hurricane Ian – together with inland marine and binding authority business.
He also highlighted personal lines, environmental and surety, as well as select classes in Markel's London market operations around marine and energy.
"So there's a lot of spaces where we find the ability to attack the market, while being really disciplined and focused in areas of professional and casualty that are a little more challenging.
"Fundamentally, at the end of the day, we've really got to align with our trading partners and the end clients to have the appropriate education around that rising cost of risk so that we can be responsive by bringing solutions to the table in a win-win fashion," he continued.
Differentiation
Noble also commented on the way that Markel has sought to differentiate itself in the market, and efforts since he took the role of president earlier this year to connect capabilities across the company's platform to bring the most value to customers.
The division houses Markel's collection of insurance businesses, including global insurance and reinsurance, fronting and program services platform State National and ILS giant Nephila.
"In our insurance operations we write over 100 major product lines, so we have the ability to really have segmentation strategies," he stated.
"The other way we compete really well is I think we have phenomenal underwriting talent, and we continue to commit to growing and really adding to that talent. Those are ways that we can take a segmented view and take advantage of the opportunities that are out there right now, and hopefully avoid some of the pitfalls of the broader challenging environment," Noble continued.
Talent changing face of industry
Noble talked further on the key subject of talent in the industry, as he noted that Markel has brought in over 1,000 new employees in each of the past couple of years to its insurance operations, adding that the company's retention has been strong.
"We recently did an annual engagement study of our employees and 90 percent said they thought Markel was great and would recommend it to others. That's a world-class statistic.
"And then really importantly, one of the things I'm most pleased about and most excited about for us is the approach that we're taking to early careers," he commented.
The executive said that the company has expanded its internship and apprenticeship programmes as well as its underwriting training programmes, and is spending more time on college campuses.
Markel is also taking initiatives that focus on scholarship programmes and tuition assistance programmes focused on attracting talent to the industry from more economically disadvantaged backgrounds and under-represented groups.
"We're adding to the diversity of our talent base and we're connecting more individuals that never would have thought of insurance as a home or a career in the industry … I think that's incredibly important.
"And I think the face of the industry is going to evolve significantly over the next few years. And that's going to be important because it's going to look more like the clients we serve at the end of the day," he concluded.
Watch the 13-minute interview with Markel's Jeremy Noble to hear his thoughts on:
Market conditions in the US E&S sector and where the opportunities reside
How Markel has differentiated itself in the market
The importance of talent and life at Markel