TransRe's Brandt: Falling casualty and PL cede commissions not yet near floor
Increasing loss ratio projections on casualty and professional liability (PL) business mean reinsurers will continue to push further than the 2 to 4.5 percentage point falls in quota share ceding commissions seen so far, while the sharp softening in D&O is "irrational", according to TransRe CEO Ken Brandt.
Among other topics in a wide-ranging interview with The Insurer TV, the executive talked about the Berkshire Hathaway-owned reinsurer regrowing aggregate in the property cat hard market as well as demand and the need for reinsurers to hold the line in Europe and not just the US.
Brandt welcomed the ceding commission reductions that reinsurers have achieved on casualty and PL quota shares as dynamics in that segment have shifted in favour of sellers after the mid-30s cedes of the soft market.
He noted that for well-capitalised insurance company buyers, there is a "natural floor" to how low cede commissions can go before they will instead retain more of the business net by cutting their cessions.
"I don't think we're near that floor, so I think we're in store for another year of ceding commission reductions," the executive predicted.
And he suggested that rather than just looking at taking points off cede commissions in isolation, the focus should be on what's happening to loss ratios in casualty and PL, as pricing begins to soften along with adverse development.
"You may get a 3 or 4 point reduction in the ceding commission, but if your loss ratio projection has gone up 10 or 15 points, you're really running up a down escalator," he commented.
Brandt said that a challenge in the market this year has been quota share programs coming up for renewal where it turned out that actual underlying rates on the expiring deals had come in well below the projections that the quota shares had been priced at.
"It turns out they didn't – unsurprisingly – get as much price as they thought they would over the past 12 months, and then they project forward for 12 months and project a lot less price, maybe sometimes even negative price.
"And then on top of that a lot of these portfolios have a lot of adverse development from the 2013 to 2018 accident years – development beyond expectations. So that's a pretty toxic cocktail … that's a tough renewal season and that's the season we're in right now. So it's going to certainly take more ceding commission reductions," said the TransRe CEO.

Irrational D&O market
While there has been moderation of underlying insurance rate increases in many areas of casualty and PL – and some softening apparent – the clear outlier has been public D&O, where pricing has fallen sharply.
Some market commentators have sought to put the sharp falls in the context of the drop-off in the SPAC and IPO market, which had been one of the drivers of dramatic price increases previously.
But Brandt was sceptical of that reasoning to explain rate decreases in the 20-50 percent range in some instances.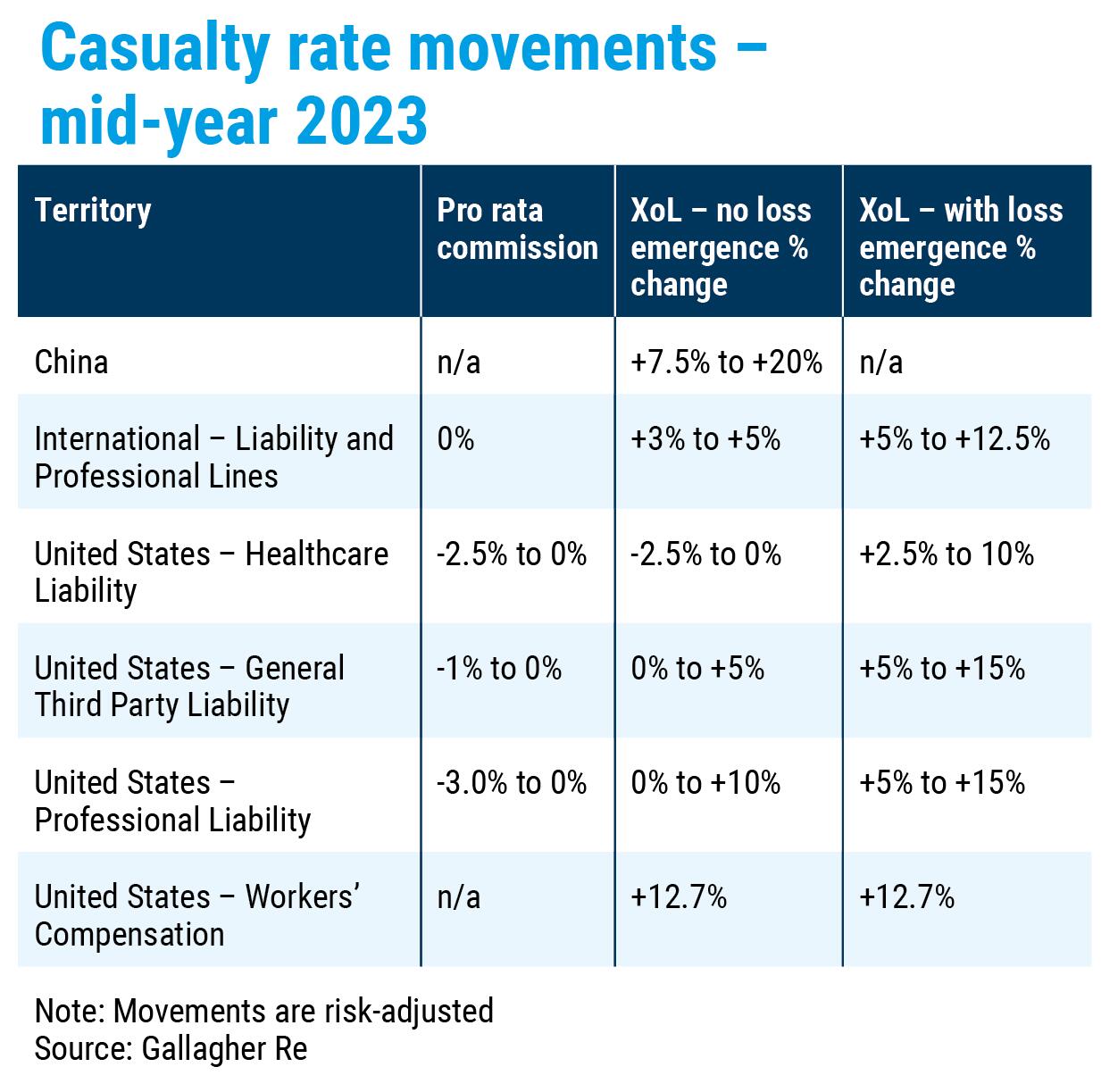 "The public D&O space, it's hard to describe the rate increases going on there … and it's completely unsustainable and, you know, frankly it's a bit insane," he said.
"If you look at a risk they wrote last year, and they write the same risk this year at 25 percent less, it's hard to rationalise that, given loss trends. It's like the D&O underwriting community took a collective suicide pact. I don't know what it's doing, and it's very concerning to us.
"Now they will say, 'Well, we had tremendous price increases over the last couple of years, and limits reduction and all the rest of it', and all of that is true. But the prior six years to that we had a soft market, so I don't have an answer for it," the executive continued.
Leaning in on property
Speaking to this publication at last year's Monte Carlo Rendez-Vous, Brandt said that after significantly cutting back aggregate in property cat – including slashing 40-50 percent of its aggregate in 2022 – TransRe was open to regrowing the book if pricing and terms sufficiently improve.
The cat treaty market has since seen a significant shift in balance towards reinsurers with meaningful rate increases in most territories and a sector-wide hike in retentions to move away from attritional losses.
"[Last year] I mentioned that there was nothing financially … nor even philosophically, holding us back from re-expanding our aggregate if the market improved sufficiently, and the market improved sufficiently.
"It's really a generational hard market in property cat, so we re-expanded our aggregate all around the globe," he confirmed.
Brandt noted the progress reinsurers have made in shifting away from writing low-attaching cat programs and aggregate programs, and the impact that is having on exposure to secondary perils.
"Property cat underwriters were providing earnings protection to ceding companies and those days are largely over. Not completely – but the attachment points have risen significantly and aggregate programs are pretty rare these days.
"So the property cat community has gone back to their traditional role of providing volatility protection for capital, not necessarily for earnings," he observed.