Aon's Dudley urges industry against "complete exclusion" from fossil fuels
The (re)insurance industry must continue supporting clients using fossil fuels to help them maintain the capital they need to transition to net zero, Aon's Richard Dudley has said.
The head of climate strategy at Aon said the (re)insurance industry's support is crucial for carbon-intensive sectors to ensure they have the necessary risk capital to transition away from fossil fuels.
"What we don't want to see in my opinion is a complete exclusion of those industries [using fossil fuels] because actually they are critical to a successful transition," Dudley said.
He added that many companies using fossil fuels already have plans to reach net-zero targets and know how to execute them, but that "they need to maintain access to capital as they're transitioning".
"That for me is the core message. Engagement, not exclusion, is definitely the way forward," he added.
Dudley's comments were made during a recent conference in London hosted by RenaissanceRe, in partnership with ClimateWise, called Leading the Transition to a Green Economy: Role of Credit & Risk Transfer.
His remarks followed the recent major announcement by reinsurer Munich Re that its Lloyd's Syndicate 457 would cease to write traditional oil and gas risks from January next year and that the group was wholly exiting new oil and gas underwriting as of 1 April 2023.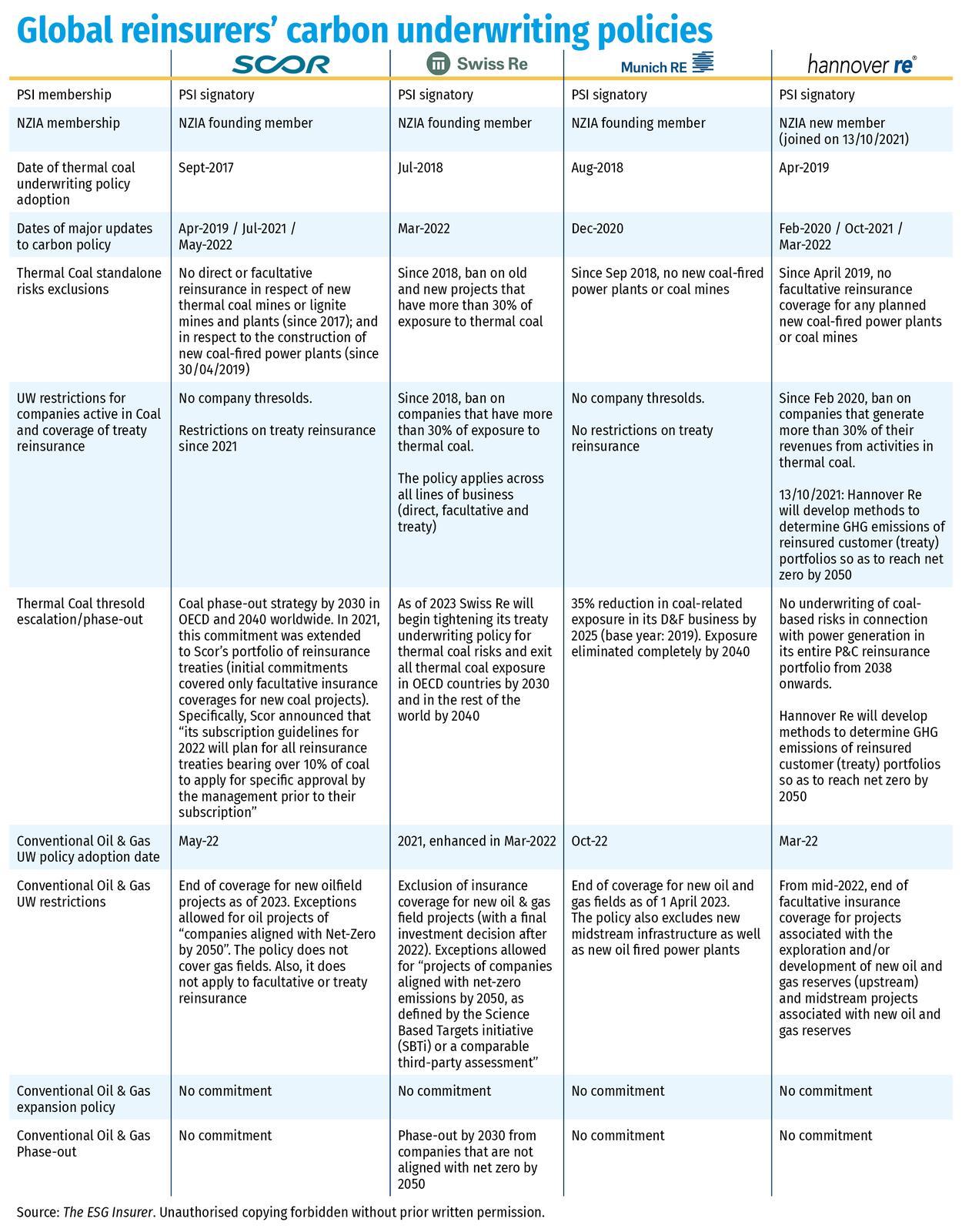 This includes no longer insuring contracts or projects exclusively covering the planning, financing, construction or operation of new oil and gas fields, new midstream oil infrastructure and new oil-fired power plants.
The rationale provided by the reinsurer was based on the need for the industry to turn its strategy towards solutions aimed at the renewable energy sector.
The big four Europe-based reinsurers have taken several steps to expand their restrictions to conventional oil and gas over the past 12 months, and Munich Re was the last of this group to stop underwriting these risks.
Moving faster
The industry has a fundamental role to play in helping industries transition to net zero, and Dudley stressed that reinsurers must think about how to speed up this transition.
To reinforce this position, Dudley noted the industry's work in transitioning helps manage societal resilience. By supporting clients that provide basic needs for society – energy and food, for instance – the industry is helping them and their governments work through a sustainable transition.
Further engagement is needed to support this process, and enabling the deployment of new and emerging technologies is key in the transition.
"If we're going to put ourselves on a more resilient footing we have to really triple down, quadruple down on the investment being made in some of these transition technologies and I think not only do we need to engage with the hard-to-abate industries, we actually need to move faster to support the new ones," he added.
At the same time, the importance of the role the industry can play in freeing up capital to accelerate this transition must be made clearer.
"We're very good at thinking about our role in downside protection, our role in thinking about physical hazards and how we understand those and help to mitigate them, protect against them … I think we're less visible, less articulate in the role we can play to actually free up much of the investment flow which is required to deliver that transition in the economy," Dudley added.